FILM REVIEW: How the Chiefs will handle a less-mobile Mahomes
September 13, 2019 9:29AM CDT
No team uses the running backs in the passing game better than the Kansas City Chiefs. Coach Andy Reid deserves the praise he's received lately for that element of his offense.
Just look at this play from Week 1 against Jacksonville, when a bunch of motion helped confuse the Jaguars' defense and left Damien Williams in space with three blockers and only two defenders (which was featured in this week's Mahomes Report).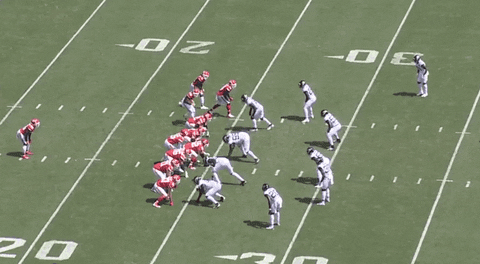 These types of plays are common for the Chiefs, but they may need to be used even more in the coming weeks, along with checkdowns and other quick throws.
Quarterback Patrick Mahomes is dealing with a sprained ankle, which visibly hampered him in the latter part of Week 1. He wasn't able to move fluidly outside the pocket or escape as frequently as he normally does. That changes what Kansas City is able to do on offense, given how deadly he is on the move.
There are plenty of examples from last Sunday's game of plays in which Mahomes could have taken off, but checked down instead. One example comes from shortly after the injury.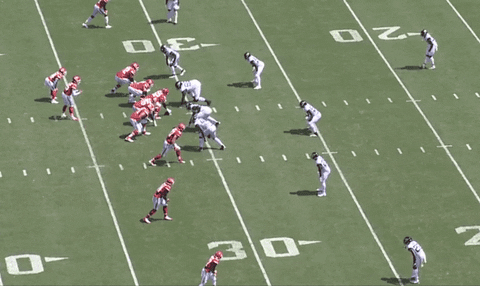 The Jaguars are applying pressure, but instead of scrambling away and trying to extend the play, Mahomes gets the ball out quickly to Darwin Thompson in the flat. It's a five-yard gain and kept the offense on schedule, so it's hard to complain. But this is different than what we normally see from No. 15.
Here's the same play from a different perspective:
Again, Jacksonville is winning at the point of attack on this play. However, the quick release from Mahomes here is unusual. There's room for him to step up, and we know that he's willing to put himself at risk of being hit in order to pick up big yardage (he exhibited that in this same game). As you can see flashing at the top of the picture at the end of this clip (as well as the whole route in the previous one), Demarcus Robinson is flashing open into a window downfield. Typically, Mahomes will remain calm under pressure, step up and thread the ball in to his receiver near the sticks. He plays it safe instead this time, immediately getting rid of the ball when his first read over the middle, Travis Kelce, isn't open.
The following clip is an even clearer example of Mahomes' reluctance to use his legs to extend plays with a hurt ankle. There are a couple options for him in terms of receivers and a ton of room where he can roll out.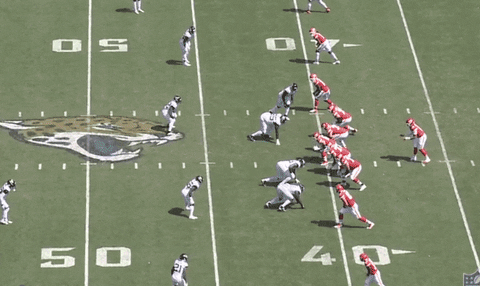 Mahomes checks this one down for a decent gain to Sammy Watkins (with a lot of the yardage gained coming after the catch). Open receivers at the decision point are in blue, a questionable option in orange and covered receivers in red. As you can see, there's a whole third of the field at his disposal to the right with a clear lane to get there through the pressure. Mahomes takes the checkdown to Watkins instead. It's not a bad play by any means, but it's not what we've become accustomed to.
Short, quick, checkdown throws are going to be more of a focal point for Reid, Mahomes and the offense while the quarterback's ankle recovers. With that in mind, other players need to step up their respective games. That starts up front with the offensive line.
On the play when Mahomes got hurt, the Jaguars did a good job of creating traffic in front of him while making him uncomfortable off the edge. He tries to evade, but there's no space to do so.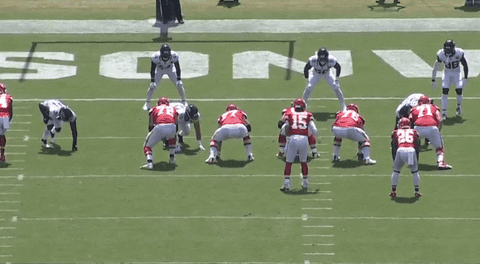 The offensive line can't hold up for long against the powerful, fast rush from Jacksonville. Focus specifically on the interior here. On Thursday, Chiefs play-by-play voice Mitch Holthus told 580 Sports Talk that the interior line is going to need to improve in order to protect Mahomes in Week 2 versus Oakland. That group had a tough outing in Week 1, despite not allowing any sacks.
Here's an example of the Jaguars applying interior pressure.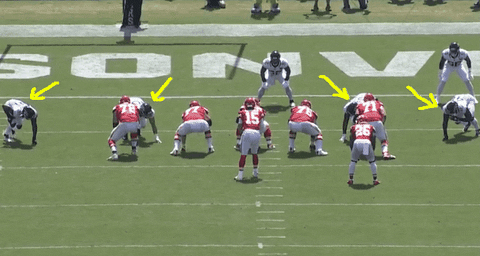 This play ends with a completion and a short gain, but the Jaguars win the battle in the trenches. Mahomes doesn't have time to try to make a throw into the end zone. The Jaguars line up with four defensive line, separated two-by-two with a wide gap between the defensive tackles. When center Austin Reiter assists to his right, it leaves left guard Andrew Wylie in a one-on-one matchup with Taven Bryan (90). He can't hold him off long enough and Bryan gets to Mahomes, hitting him as he lets go.
There aren't any gimmicks with that rush, just a less-traditional alignment to start the play. The Raiders, however, love to stunt and mix things up with their pass rush, as Holthus pointed out.
Oakland racked up three sacks in their season-opening win over the Denver Broncos, including this next clip. Broncos quarterback Joe Flacco isn't ready for the essentially free rusher coming from his right.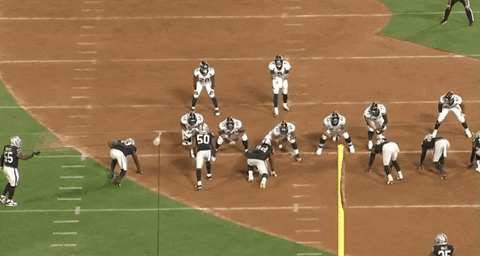 Two of the players on the line for Oakland bail out and drop into coverage. One is defensive end Clelin Ferrell (96), who steps in before dropping back. His side of the line is still overloaded, though, with P.J. Hall (92) and Arden Key (99) rushing from their down lineman spots and Lamarcus Joyner (29) blitzing off the edge. With the offensive line focusing on their overloaded left side, look back on the other side. That's where you see linebacker Nicholas Morrow (50) retreat from the line, leaving a lot of space and a one-on-one matchup for defensive end Benson Mayowa (91). He's too fast for right tackle Elijah Wilkinson, getting inside leverage and recording a sack-fumble.
The Raiders don't have the same talent as the Jaguars on the defensive line, but they showed they can still get after the quarterback in Week 1. They're going to try to get creative up front, which means the Chiefs need to be ready to protect the interior. That's doubly important now given the temporary physical limitations for Mahomes. On Sunday, watch for extra help in pass protection, whether from a blocking tight end or leaving a running back in to chip, and expect a continued emphasis on the short, quick passing game to mitigate Mahomes' lack of mobility.
---