Mahomes Report: 2019 Preseason Recap
August 26, 2019 7:58AM CDT
Welcome to the Mahomes Report, a weekly breakdown from Brendan Dzwierzynski of what Kansas City Chiefs quarterback Patrick Mahomes did, either good or bad, during the most recent Chiefs game. For past editions, click here.
It feels like it's been forever since we last saw Patrick Mahomes take the field. Just since the AFC Championship Game he was officially crowned the NFL MVP, the entire Tyreek Hill family saga unfolded, the Chiefs' roster turned over quite a bit and the feelings of resentment toward the end of last year's playoff run never truly subsided.
Mahomes and his elite weapons have gotten some game action over the past few weeks, which we're recapping here in the latest edition of The Report. Despite still having exhibition No. 4 to play, Mahomes likely won't see any action so his preseason slate can be accounted for now. This is a heavily condensed version of the Mahomes Report; as opposed to the regular season when you'll see dozens of plays from Mahomes and the rest of the team broken down, his minimal usage this summer means just a couple of plays are here to whet your appetite.
The preseason means next to nothing (more on that later), but it's fun to see the MVP slinging the ball all over again.
PRESEASON STATS

Comp. %
Yards
TD
INT
Rate
73.7
203
1
0
125.5
First off in our abbreviated preseason review, we're taking a look at a rare poor pass from No. 15.
In the second exhibition against the Pittsburgh Steelers, Mahomes just misses Damien Williams on a wheel route (a route which is always open, by the way). Williams gets a step on Steelers linebacker Mark Barron (26) and the quarterback just puts too much air under it.
Fast forward to preseason Week 3, when the still-young passer shows off one of his best intangible traits: growing from mistakes quickly.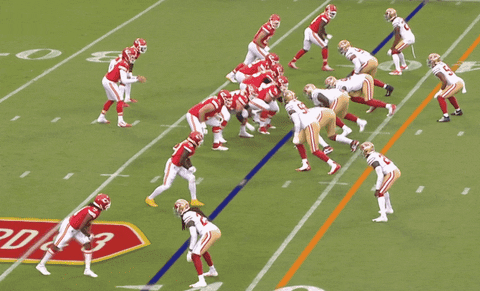 This time around, Williams runs his route to Mahomes' left and is not only guarded by a defensive lineman, but also got a natural chip from tight end Travis Kelce and his route. With plenty of open space, Mahomes drops this throw right in the bucket. The touch is perfect, Williams grabs it in stride and can race ahead for a score. You love to see growth in the preseason, and Mahomes doesn't make the same mistake twice on this target out of the backfield.
From that same game, we saw a prime example of Mahomes picking apart a defense with RPO action and using his hand cannon to get the ball to his receiver in an instant.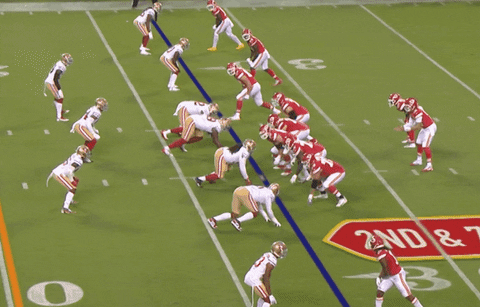 Last season, San Francisco 49ers inside linebacker Fred Warner (54) was tortured by the Chiefs' RPO game. He's Mahomes' read on this play as well, and when he moves up and to his right on the run action, the throwing window to Tyreek Hill is wide open. Hill runs a simple slant from the boundary and is completely uncovered after shaking Richard Sherman (25) out of his break. Look at the zip on this pass, even with a double clutch. These plays are nearly unstoppable.
In Kansas City's preseason opener against the Cincinnati Bengals, we got to see Mahomes unleash a pretty ball down the sideline for a big gain.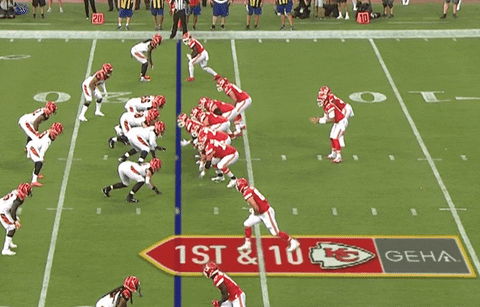 The most remarkable part of this play is that cornerback Anthony Chesley (38) has no idea where the ball is until Kelce is already picking up YAC. By this point we know that Mahomes isn't going to be rattled with minimal pressure, so we see him hang in the pocket while Eric Fisher tries to keep defensive end Sam Hubbard (94) at bay. Then, despite pressure approaching from his right, Mahomes calmly steps into the throw and delivers a rope right into Kelce's outstretched hands. This is a beautiful play in general with a beautiful throw as the pièce de résistance.
That's about it for the meaningful or noteworthy throws from Mahomes this preseason. However, his running ability gave some Chiefs fans a heart attack at least twice in three weeks.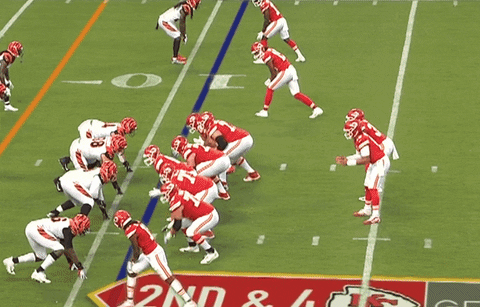 Whether it was coincidence, design or fear that caused it, Mahomes didn't play after the conclusion of this series following the run. He slid, thus doing the right thing, but he definitely put himself in harm's way. You don't love seeing that in the preseason.
You like seeing the following type of run even less.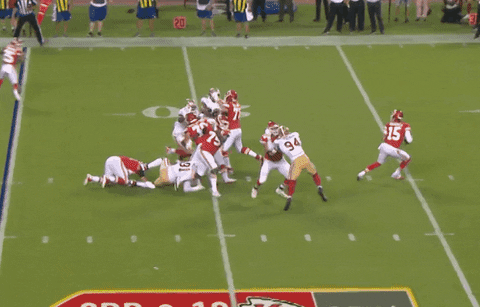 It's hard not to respect the willingness to go for broke at any time when you're on the field, but a head-first dive in a meaningless exhibition is cause for some concern. The solution? Stop playing starters, It's Andy Reid's thing to keep starters in longer during the third preseason game, the so-called "dress rehearsal" game, but there's less and less data backing up that it's a good decision. QB1 should have pulled up and slid (or just thrown the ball away), but it's not easy to convince guys who are violent and competitive for a living to tone it down when they're in a game environment. If Mahomes gets hurt the season is over for the Chiefs, so why take the risk? Does he need a dozen or less reps that badly? Probably not.
Not that I'm bitter about my favorite team losing a couple contributors during a moronic preseason game in Canada, nope not at all.
---