Mahomes Report: AFC Championship Game vs. Tennessee
January 20, 2020 8:00AM CST
Welcome to the Mahomes Report, a weekly breakdown from Brendan Dzwierzynski of what Kansas City Chiefs quarterback Patrick Mahomes did, either good or bad, during the most recent Chiefs game. For past editions, click here.
For the first time in 50 years the Kansas City Chiefs are heading to the Super Bowl. Unsurprisingly, they earned that berth thanks in large part to a huge game from Patrick Mahomes.
He wasn't the only reason why the Chiefs beat the Tennessee Titans in the AFC Championship Game, but per usual Mahomes pulled off a handful of plays that no one else in the league can right now. His big arm and elusive feet gave the Titans fits, just like they have to everyone else the Chiefs have played.
We have two weeks ahead of us before we see Mahomes on the field again, and in that time he, his team and everything else related to Super Bowl LIV is going to be analyzed to death. So before we get there, just take a moment, kick back and appreciate the best quarterback in the NFL.
| | | | | |
| --- | --- | --- | --- | --- |
| Comp. % | Yards | TD | INT | Rate |
| 65.7 | 294 | 3 | 0 | 120.4 |
Mahomes Good
We'll start this week's Report with one word: Dagger.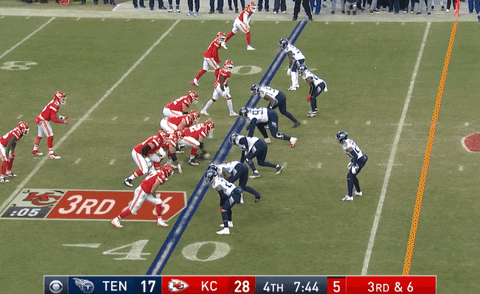 This was the third of three touchdown passes for Mahomes in the win over Tennessee and it was the one that elicited the most intense emotional reaction. Already up two scores, Mahomes launched this rocket to Sammy Watkins for a long touchdown that put all doubt in the final score out of mind. This throw has everything. Mahomes has to dance around in the pocket, shifting left before dashing out to the right. He keeps looking downfield the entire play, he loads up and and throws a beautiful bomb of a pass right on the money. This is peak Mahomes and it finally allowed the Chiefs Kingdom to know it was all real, not just a dream this time.
Along with his phenomenal passing on Sunday, he also ran the ball extremely well, including on this score that Mitch Holthus dubbed as maybe the best of his career so far.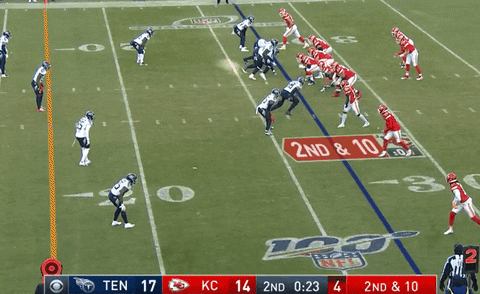 If he's running like this, there's effectively nothing you can do to stop him. We know how elusive he is and how underrated his speed is, but this is the pinnacle of his footwork and mobility. Mahomes breaks through tackles, tightropes the sideline and even spins through defenders to get to the end zone. He ran for first downs four times in the game (h/t SportsCenter with Scott Van Pelt) but no play he made with his legs was more spectacular than this one.
Keeping up with the scoring theme, let's get to his other passing touchdowns against the Titans. His first one of the day was mostly thanks to the work of Tyreek Hill.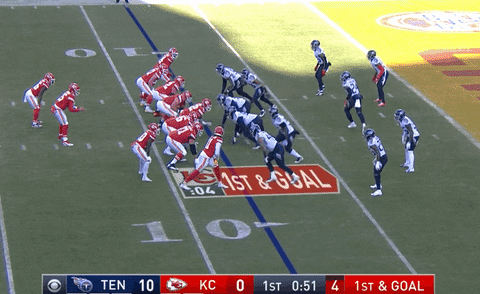 The Chiefs haven't pulled out the fly sweeps quite as often in goal-to-go situations this year as last year, but it was clearly just as effective as ever on Sunday. It's designed well and maximizes Hill's speed. Easy score once he hits the edge.
Hill scored his second touchdown, also the second one Mahomes threw in the game, on our Laser of the Week.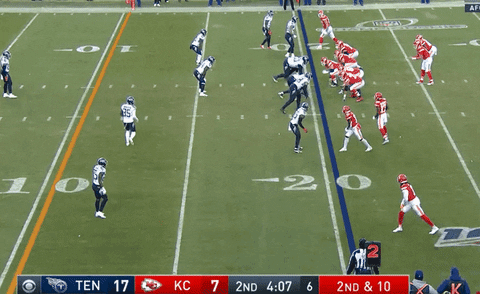 Watch Hill right at the snap; this is where the route is won. He shakes past Adoree' Jackson (25) right from the jump, and from there it's on Mahomes to fit the ball in to his receiver. Mahomes sees Hill win against Jackson and times up the throw perfectly, firing a dart to Hill as he coasted into the end zone. The perfect protection up front allows Mahomes plenty of time and space to set up and make a perfect throw. Jackson is one of the fastest players in the league, but he's not Hill fast. Mahomes recognizes it and makes the defense pay with a touchdown strike.
We've already seen one deep ball from Mahomes rolling to his right, so we may as well see one more.
This was an important throw in a critical juncture during the first quarter. You can see QB1 exhaust all of his options in the pocket before he bails out right to avoid late pressure. While still following his receivers down field he's able to see that Hill is coming open along the near sideline. He makes the throw while on the run, getting plenty of power behind the throw despite throwing from an unorthodox and challenging base. It's plays like this that, even during slow starts and slumps, remind you that Kansas City is never out of a game as long as Mahomes is playing.
The Titans made it a point to try keeping the Chiefs' receivers in front of them throughout the game so they could avoid giving up the big play. It clearly didn't work all afternoon, but Mahomes was forced to work the intermediate and short routes plenty in the AFC Championship Game. For example, this pretty pass: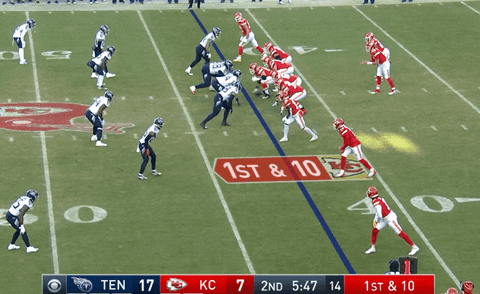 Demarcus Robinson just camps out in a soft spot in the zone, running a stop route along the near sideline. Mahomes drops back, follows through and lets go of the cleanest spiral of the day, which lands precisely in Robinson's wide-open hands. This is a classic example of QB1 killing a team when they leave receivers open. He never misses these opportunities.
On that same drive, Mahomes worked the opposite sideline with another accurate pass, this time to Watkins.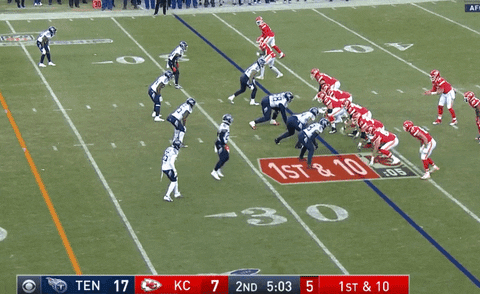 We're back to watching Mahomes make plays on the run, once again angling to the right. He gets away from the pressure, then puts a throw on the money while sprinting off to the side. No chance for yards after the catch, but the throw still gets Kansas City a first down and that's most important. Any amount of separation led to a solid gain or more for the Chiefs this weekend.
Watkins had his best game since Week 1 against Tennessee, and it felt like he was running open all game long.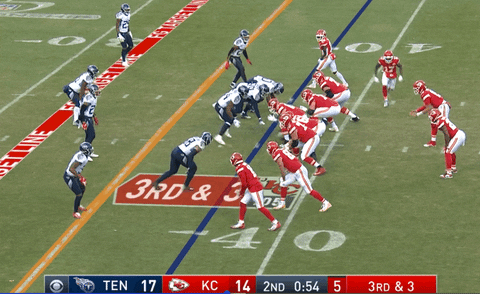 Watch the way Mahomes adjusts the pocket, deftly sliding right and away from edge pressure before firing back across the middle with a crisp pass right to Watkins. The receiver is working in front of the defensive backs, giving Mahomes a chance to let it rip with no chance for anyone else to make a play. It's an easy completion for another first down.
Then there were shorter throws to Watkins, as well.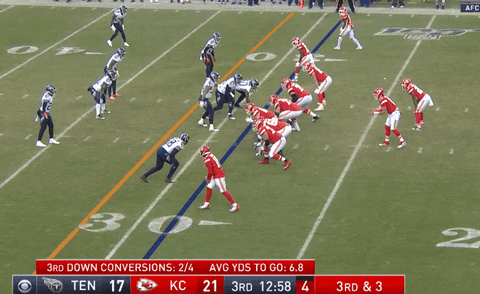 Roll right? Check. Never stops scanning the field? Check. Timing it up perfectly? Check. It initially was ruled an incomplete pass, but upon video review it was clear the Watkins was in bounds for the first down. You could tell Mahomes wanted something bigger along that right sideline and settled for the first down, but sometimes taking what the defense gives you is a better idea than throwing it into tight coverage or wasting a down.
For good measure, let's throw in a timing route that features some impressive athleticism.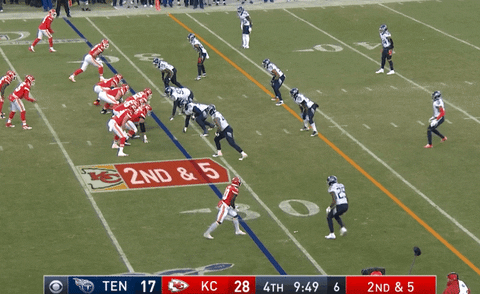 This is a rare Mahomes throw that wasn't perfectly accurate, but it's close enough that Watkins is able to make a play on it. It's a stellar play, too, reacting quickly to spin back to the ball, reach out and grab it. This is a perfect route off the play action, with plenty of space between the cornerback in coverage and Watkins. If you leave this much space open for a receiver, Mahomes will take advantage of it.
Finally, we see Hill again, who's on the receiving end of this shortstop-like throw.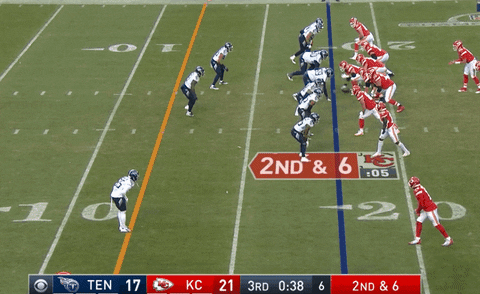 The Chiefs get Hill matched up on a linebacker, which is essentially stealing. He runs a drag, cuts upfield and then continues to the sideline, giving him plenty of separation while also keeping Jackson at bay in the secondary. Mahomes goes through his progressions and eventually comes back to Hill and the shallow crosser. He takes one shuffle step left, looks back right and drops his arm angle down to make sure he can get throw out ahead of Hill and away from Wesley Woodyard (59). With the help of a slight extension, Hill makes the catch inside and speeds around the edge to set up first and goal. Beautiful play.
Mahomes Bad
Once again, there wasn't much to dislike from Mahomes' effort this week.
There was one throw on the first drive of the game for the Chiefs that was slightly behind Watkins, although it was easily catchable. On another pass, which saw Mahomes scrambling around for what seemed like an eternity, he passed it nowhere close to any receivers, but it was evident after the down that there was a miscommunication between him and Hill.
If that's all that you can point out as a flaw in Mahomes' game, it will be nearly impossible to stop Kansas City's offense. That's not hyperbole, that's fact. They are playing as well as they have in his short career right now, and he's played as close to flawlessly as we've ever seen from him. There's a reason this section has been almost completely void of video clips over the past several weeks.
Non-Mahomes Good
Chris Jones' impact can't be overstated. The Chiefs were able to take care of the Houston Texans last week without him, but as games get more and more important his presence is more and more valuable.
Which made it extremely fortunate that he was able to play through his calf injury in the AFC Championship Game.
Tennessee had been incredibly efficient in the red zone over the last several weeks, but on the first drive of Sunday's game Kansas City forced it to kick a field goal after starting a drive inside the 20, something most other Titans opponents could only dream of at the end of the year. Jones made that happen with this rush on third down, bursting through the line to drive quarterback Ryan Tannehill back and into a situation where he had to throw it away. If he's on the field, the Chiefs are far more difficult to beat.
The same can be said when the rest of their pass rushers are on their game. If Tanoh Kpassagnon is harassing quarterbacks, Jimmy Garoppolo should be terrified.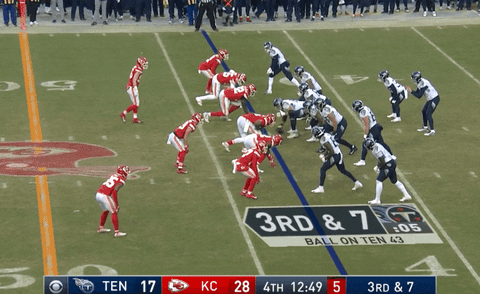 Four lineman come on this down, plus a delayed blitz from Ben Nieman, and Tannehill has no chance. Kpassagnon comes from Tannehill's right, and he gets home despite a lineman draped on his right shoulder. His pure strength is a huge asset, and now that he's channeling it into actual football plays instead of raw athleticism he's become a force to be reckoned with.
He wasn't done in the fourth quarter with that sack, either.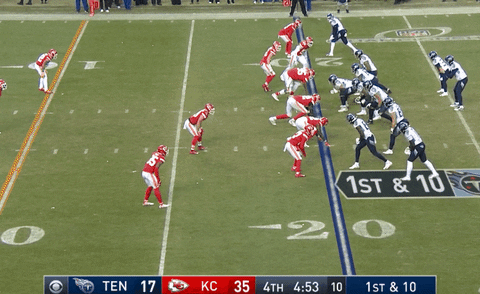 Strength isn't Kpassagnon's only asset. He's also certifiably fast, which he shows off here as he chases down a scrambling Tannehill. He's lying in the weeds, spinning out of the offensive line and then diagnosing the escape. A strong pass rush is always essential, but to be able to get after the quarterback regularly at the end of the game puts a ton of pressure on opposing offenses.
Dan Sorenson has been a star so far in the postseason, and while he didn't make quite as many splash plays this weekend as he did against Houston, he still made his presence known.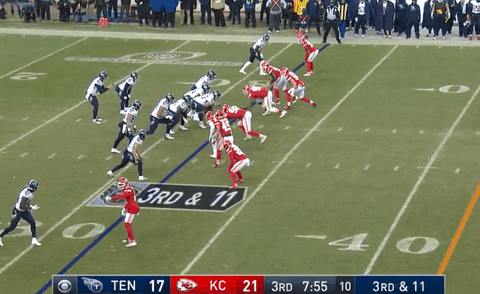 First of all, look at Jones hightailing it after Tannehill. Once the quarterback turns the corner, though, Sorenson has him in his sights and lays the wood with this big hit. The veteran safety also had an impressive tackle for loss against Tennessee. Getting players like Sorenson to play their best football of the year in the biggest moments is the sign of a team that has a legitimate shot to win it all.
Non-Mahomes Bad
The Chiefs have a well-deserved weekend off before playing the 49ers in the Super Bowl, and in that time they need to work on a little more on-field discipline.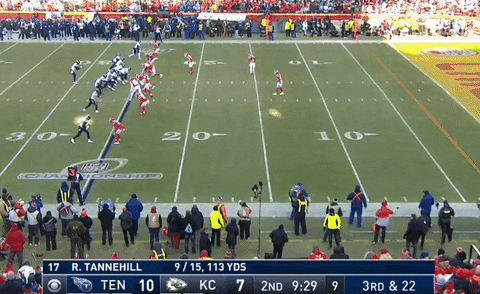 You can't see it in this clip because of the camera angle, but on third down and 22 Bashaud Breeland committed pass interference. Simply put, it was a dumb penalty. The route he was defending was going to end well short of the sticks and would have done nothing but change the distance on a field goal attempt. Instead, the Titans got a first down and eventually scored a touchdown. The Chiefs haven't had any back-breaking penalties lately, but combine this with a rash of offside (or offside adjace) penalties and you're doing yourselves a major disservice. Those are the kind of mistakes you can't make against the 49ers in two weeks.
Lastly, Kansas City has to start faster. This week's slow beginning wasn't as drastic as last week's, but the Chiefs are playing with fire when they start out down multiple scores in the first quarter. Mahomes can make magic happen almost on command, but it would be nice to not force him to work from behind in the biggest game of his life on Feb. 2.
---