Mahomes Report: Divisional Round vs. Houston
January 13, 2020 12:13PM CST
Welcome to the Mahomes Report, a weekly breakdown from Brendan Dzwierzynski of what Kansas City Chiefs quarterback Patrick Mahomes did, either good or bad, during the most recent Chiefs game. For past editions, click here.
Patrick Mahomes was a large part of history on Sunday, as he contributed 321 yards passing and five touchdowns to the Chiefs' massive comeback over the Houston Texans. Things were rocky early, but the reigning MVP was phenomenal as the game went on.
The last time Kansas City and Houston faced off (Week 6 of this season) Mahomes played decently but wasn't able to move the ball more than a few yards at a time. Despite averaging 10 air yards per attempt, he completed just 2-of-11 pass attempts of longer than 10 yards. In the divisional round, however, Mahomes was 8-of-12 on those throws.
Houston tried its hardest to slow down Mahomes, but once the wheels started to falls off for the Texans No. 15 was effectively unstoppable.
| | | | | |
| --- | --- | --- | --- | --- |
| Comp.% | Yards | TD | INT | Rate |
| 65.7 | 321 | 5 | 0 | 134.6 |
Mahomes Good
None of Mahomes' touchdown passes traveled far through the air on Sunday, but the longest score of the day came of a staple of the Chiefs' offense.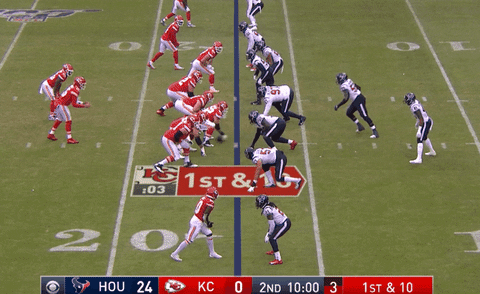 All season long, Damien Williams has been running wheel routes out of the backfield and Mahomes has been hitting him for big gains. That came to fruition again against the Texans. Williams not only gets a free release when running out of the backfield, but screens from Travis Kelce and Sammy Watkins on linebacker Jacob Martin (54) also give him separation. You can tell how often Kansas City runs this play and works on it because of how perfect the timing is; Mahomes throws well before Williams is looking for the ball, and by the time he turns around the ball is already in front of him. This was executed perfectly and got the ball rolling for the rest of the Chiefs' onslaught.
Arguably the most impressive touchdown pass of the day was the fourth one Mahomes threw, which featured what Good Morning Football host Nate Burleson calls "toe drag swag."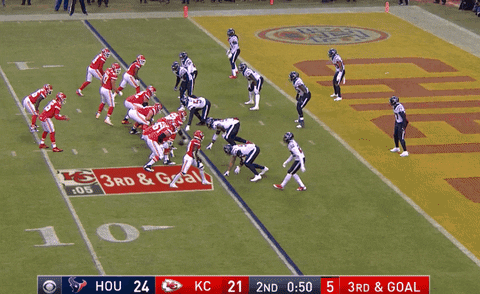 At first blush, it looks like Mahomes advances past the line of scrimmage on this play. Upon further review, though, part of his left foot was still behind the line because he dragged it along the ground, so the pass counted. The throw is simple but effective, dumped off to the side to Kelce despite running away from the play. However, Mahomes shows off tremendous field awareness to drag the foot to keep the pass play alive.
That touchdown, the one that gave the Chiefs the lead late in the second quarter, was the third of three touchdowns in the second quarter for Kelce. The first was on a shallow crosser along the goal line.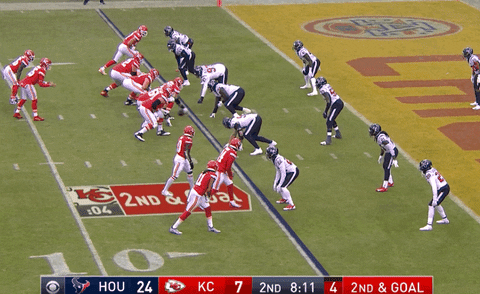 Kelce makes a nice move as he begins his route, shaking off his defender and breaking across the middle. Mahomes does a good job moving the pocket, feeling pressure breaking things down to his left and sliding out to the right. Despite Kelce running past Mahomes, the quarterback makes an accurate throw to prevent cornerback Lonnie Johnson (32) from breaking it up. Check out the arm angle here, with No. 15 dropping his arm slightly to get the perfect trajectory on the pass.
As for the second touchdown to Kelce and the third of the game overall, the way it unfolded was reminiscent of our previous play.
Instead of a crosser Kelce is running an out on this play, but the play is flowing in the same direction. He ends up open, and Mahomes keeps the play alive as long as he can while rolling right, eventually finding a window and releasing a dart to his tight end. When there's that much space and only that little yardage needed, this is too easy for an offense, especially one led by Patrick Mahomes.
He threw one other touchdown pass against Houston, a late score to another tight end.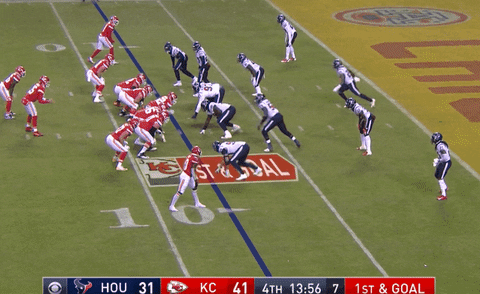 The Texans have no chance here. This is an RPO (watch the offensive line run blocking) with two tight ends leaking out to the left. Mahomes diagnoses the defense immediately, seeing that safety Mike Adams (27) isn't immediately dropping into coverage. The fact that he starts coming forward instead of dropping means Blake Bell will be wide open in the flat. That's easy pickings for QB1.
While all the scoring plays came from short distances, Mahomes did make several downfield throws for big gains. That included a couple free-play deep balls to Watkins.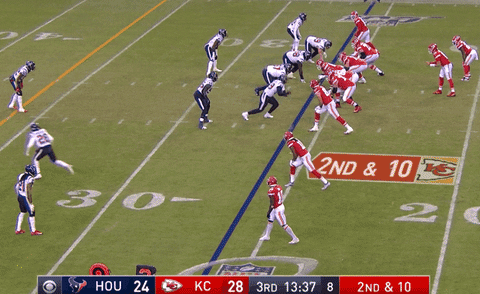 Imagine trying to defend Mahomes and his receiving corps with zone defense. Watkins gets wide open with a corner route and from there it's all on Mahomes to just get the ball there. He draws edge rusher Whitney Mercilus offside then quickly gets the snap, creating the free play. As every quarterback should in that scenario, he takes a shot down the field. With Watkins wide open it becomes a big, easy gain.
In the fourth quarter Mahomes and Watkins took advantage of another free play with a throw that is also our Laser of the Week.
Once again the Texans are dropping into a zone, so Watkins' post route is minimally inhibited. Mahomes has to shift with pressure coming around the edge, but he has room to step up in the pocket to put extra velocity behind the throw. He steps in, transfers his weight forward and throws a frozen rope down the field. It's a bit high, but Watkins has no one around him so he's able to haul it in. This big play led directly to the Bell touchdown.
Watkins wasn't the only deep target in the divisional round for Mahomes. On the following play, Mahomes hit an open Kelce deep for a first down.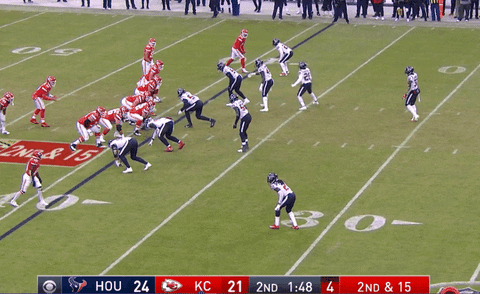 Kelce and Watkins are running a double dig from the left on this play. Mahomes gets good protection here, but still shifts the pocket to the left slightly to give himself more space. It works out perfectly, because he gets an open window to throw through and he puts the pass right on the money to Kelce in stride. The degree of difficulty is ratcheted up because the throw goes back against the grain from left to right. Despite this, it's a perfectly accurate pass.
When Houston went to man defense it gave Kelce plenty of opportunities to make big plays, including this next one.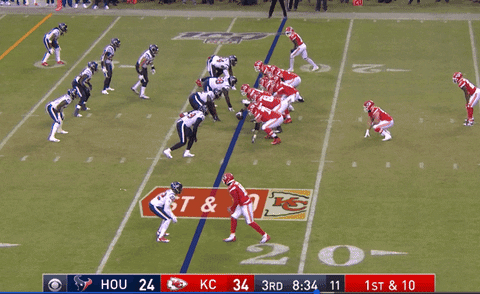 You can see a double clutch in this throw, which is somewhat problematic given the pressure collapsing the pocket. He's still able to get it off though, and with enough power behind it to allow Kelce to box out his defender and make the grab without allowing him a chance to break it up. Mahomes does a great job of finding his target and making the play even with the hitch in his throwing motion.
We have one more example of Mahomes finding Kelce for a deep play, and this time it shows off Mahomes doing a good job of waiting the proper amount of time to find his receiver.
The Chiefs' offensive line did a great job throughout the game, holding up and not allowing the Texans to get much pressure on Mahomes at all. This time they give him a ton of time to find an open man, which he eventually does after reading through his progressions. Instead of bailing out and throwing the ball away, he keeps things alive and eventually gets the ball to Kelce. Plays never die when he's got a chance to make something happen.
Tyreek Hill didn't have his most productive game this week, although one of his three receptions on the afternoon featured a challenging pass and an impressive run after the catch.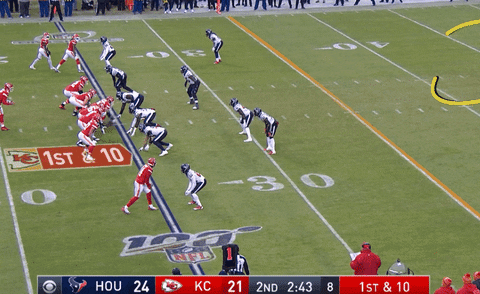 This play features everything. Mahomes makes his reads and eventually finds Hill at the end of his out route. The throw itself is long and challenging, thrown from the right hash all the way to the left sideline. He floats it in accurately though, torquing his upper body and placing the pass right in Hill's breadbasket. Hill does the rest, spinning around and gaining big yardage after the catch. This was one of the hardest throws of the afternoon and Mahomes made it look easy with his pinpoint accuracy and arm strength.
Lastly, we'll get to some scrambles. This is an element of Mahomes' game that has become more valuable and more frequently utilized in recent weeks.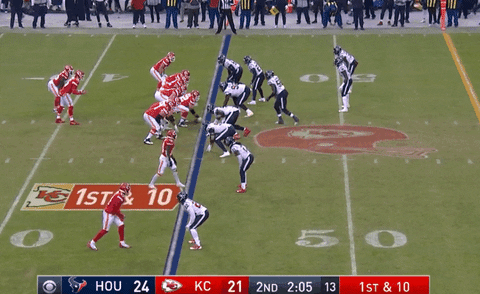 Mahomes isn't the kind of runner that a Lamar Jackson is, or even a Russell Wilson, but when he uses his scrambling ability as a last resort it's a deadly weapon. It's much more similar to Aaron Rodgers in that way. On this play in particular he ran for a huge gain thanks to the Texans covering only the left side of the field. It's reminiscent of a play against the Chargers in Week 17, when L.A. only covered the right side of the field and Mahomes ran for a score. If he's going to take off and run like this defenses will want to find a way to adapt, but dedicating extra bodies to slowing that threat only makes the passing game more difficult to defend. Defenses may have to just accept that Mahomes can rip off long runs like this.
Mahomes Bad
Mahomes' numbers weren't particularly good in the early going, but frankly it's hard to put all the blame on him.
Nobody played well for Kansas City in the opening period, but Mahomes didn't do anything particularly egregious. He didn't get a punt blocked or blow a coverage, for example. In reality, Mahomes played a phenomenal game. As flawed of a statistic as it is, you don't fall into a 134.6 passer rating by accident. You can point to the first drop by Demarcus Robinson as something caused by a bad throw from the quarterback, but overall he played a clean game.
Non-Mahomes Good
Daniel Sorenson played one of the best games of his career against the Texans.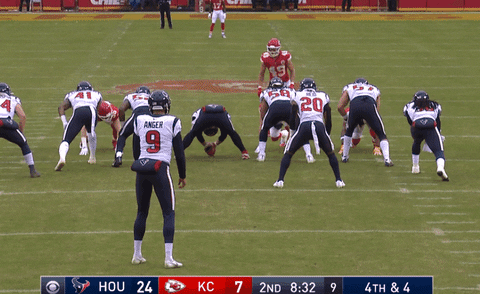 First of all, as it pertains to this play and the entirety of Sunday's game, Bill O'Brien is a terrible coach. This was a boneheaded decision. Regardless, Sorenson makes a tremendous play, diagnosing the fake instantly, taking a good angle to the ball carrier and making a perfect tackle. He's far from the quickest or most instinctual player on the Chiefs' defense (or special teams, as it pertains to this week) but he came out firing this week.
And he wasn't done making plays, either.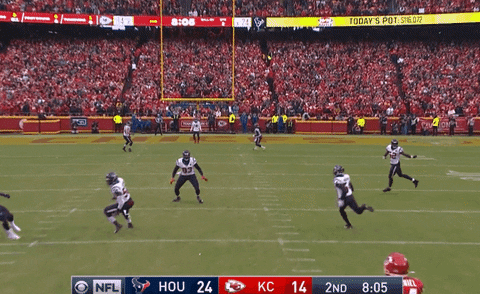 There's always an element of luck involved with football, but this is a strong and smart play by Sorenson. The best-case scenario is what unfolded, with the hit popping the ball out of Andre Carter's (14) grasp on contact. Even if he hadn't fumbled, though, Sorenson would have dropped him right around the 20 with another excellent tackle. The fortuitous bounce right to Darwin Thompson was just gravy.
Keeping with the special teams theme, the #FreeMecoleHardman movement was supported by a couple big plays from the rookie wide receiver.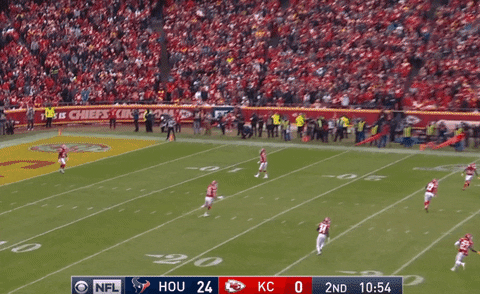 You can't quantify things like how much momentum is gained by one single play, but it was evident that this kick return by Hardman sparked some confidence and energy in the Chiefs. He's so explosive and has proven that he's reliable in the return game, always presenting the opportunity for a big play (which makes a clip later in the Report more confounding). Setting up Mahomes and the offense with a short field for this drive was a crucial turning point in the divisional round.
Hardman got in the mix on offense, too.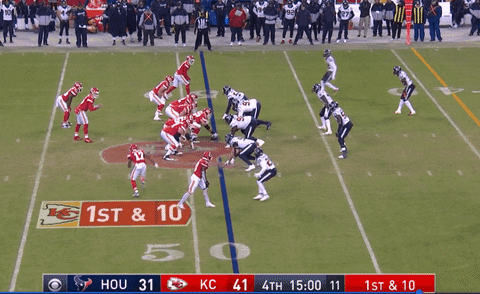 He had just two catches for 19 yards in the game, but it's clear with plays like this that he can add an explosive element to Kansas City whenever he's on the field. We're still holding out hope that he'll be unleashed at some point this postseason, because it appears obvious he continues to give opposing teams gits with his speed and explosiveness.
Frank Clark had to pick up a lot of slack on the defensive line this weekend with Chris Jones out injured. Unsurprisingly, he answered the bell.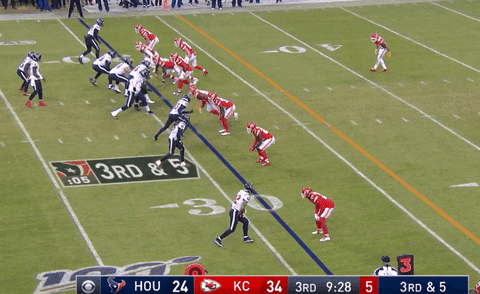 He recorded three sacks in the win over Houston, none more impressive than this one. His motor is sensational and it allows him to fully maximize his athleticism. It's extremely difficult to keep up with the quick, shifty and elusive Deshaun Watson, but Clark is able to catch him for a sack here despite running out of the play twice and even ending up on the ground once. Watson holds the ball too long, but credit to Clark for sticking with the play, fighting through blockers and making the play.
His final sack of the game was an emphatic exclamation point to punctuate a Chiefs win.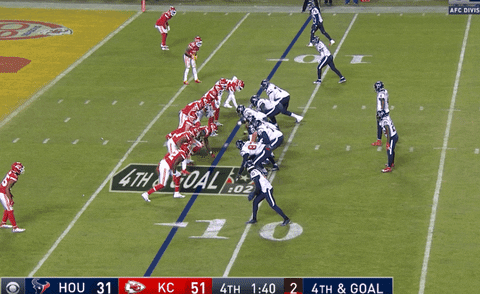 Watson should probably make a quicker decision here or not run right into the defensive end charging at him. Still, Clark takes advantage of hideous blocking and effectively ends the game with a sack. He was the game's best defensive player, constantly wreaking havoc in the backfield and troubling Watson.
Non-Mahomes Bad
On the bright side, three of four quarters were phenomenal for the Chiefs. If you only give up 10 points in three quarters while scoring 51, things are going well. Unfortunately, the first quarter did still happen against the Texans and it was an all-time ugly one.
That includes poor play on offense, defense and special teams in the opening 15 minutes.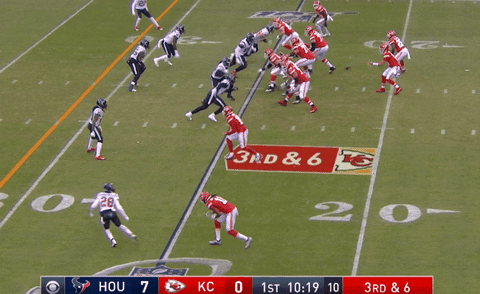 Drops were mentioned above, and this is the first example of several bad ones from the first quarter. Kelce is screaming wide open for a first down, but can't hold the ball after Mahomes does an excellent job of dancing around and getting the pass off. Robinson dropped a pair of passes in the game and Williams let one go, too. If this was just a strange, brief hiccup then it's no big deal. But as the margin for error gets smaller, you can't afford to give away first downs like this.
That Kelce drop shown above came on the first Chiefs drive. The first drive of the game overall belonged to the Texans, and the Chiefs essentially gave them a free score.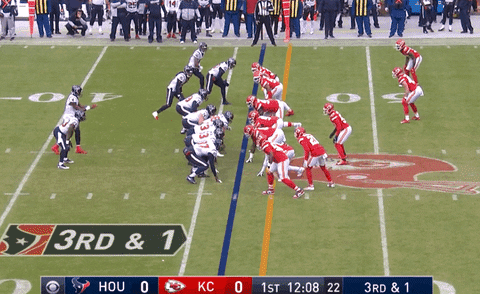 Houston's offensive efficiency with and without Will Fuller (15) is staggeringly different, and you can see why from this play. Kansas City has two players committed to him on a bubble screen. That's a decoy, though, and it allows Kenny Stills (12) to run free down the numbers for a touchdown. It seems clear that there was a miscommunication, but you can't afford that when the risk (a wide receiver with no one between him and goal line) is so huge.
Then there were special teams in the first quarter.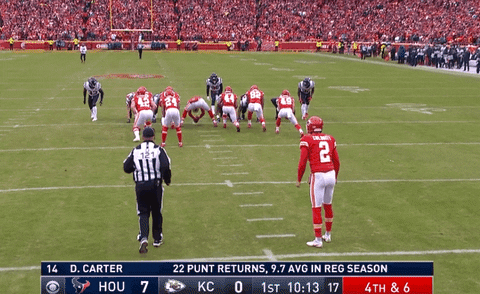 It hasn't been a banner year for Dustin Colquitt, and his postseason hasn't started off very well, either. Barkevious Mingo (52) swims through the protection and has a clear run at the punt, blocking a kick that is eventually returned for a touchdown (this game was a prime example of the existence of fumble luck).
Speaking of fumbles: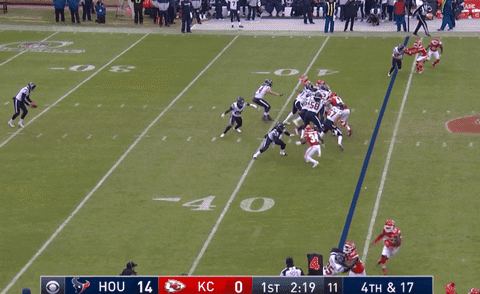 On one hand, you can understand the thinking behind putting Hill in the game to return this kick. He's the fastest player in the game and has a phenomenal track record of big punt returns. On the other hand, Hardman has also proven to be a good return man and Hill hasn't fielded a punt since Week 1. This was the moment at which it seemed like the season's death was inevitable. Of course, things turned around, but this should be a teaching moment for the Kansas City coaching staff to show them you shouldn't try to get too cute in the playoffs.
As long as the first-quarter mess was a blip on the radar, the Chiefs will be fine. But next week, when they face a team that can grind a game out on the ground and is coached by someone who's not a complete fool, they won't be able to afford a similar disaster.
---