Mahomes Report: Week 1 vs Houston
September 11, 2020 1:09PM CDT
Welcome to the Mahomes Report, a weekly breakdown from Brendan Dzwierzynski of what Kansas City Chiefs quarterback Patrick Mahomes did, either good or bad, during the most recent Chiefs game. For past editions, click here.
Football is finally here. Patrick Mahomes is finally here.
We've heard over and over that we didn't now if we'd ever reach the start of the NFL season, but now that it's here it's like a wave of serenity washing over us after lying in filth and mud for nearly six months. And there is not better way t cleanse the eyes, body and soul than to watch Patrick Mahomes tear up a defense.
It's not fair to call his Week 1 effort "boring," but it is reasonable to point out that he didn't make the kind of flashy passes we're used to seeing numerous times throughout the game. Then again, he didn't have to do that, considering rookie running back Clyde Edwards-Helaire was a super weapon the Texans didn't have a shield for. But QB1 did still make some nice plays and impressive passes in the opener, and it was such a relief to see.
| | | | | |
| --- | --- | --- | --- | --- |
| Comp. % | Yards | TD | INT | Rate |
| 75 | 211 | 3 | 0 | 123.3 |
Mahomes Good
The touchdown pass selection this week is more function over fashion, but they still deserve our attention. First up, Mahomes's first score of the year.
An excellent route concept makes this one easy enough for Mahomes, provided that he can thread a tight pass between a few bodies. Travis Kelce is stacked behind DeMarcus Robinson, with Edwards-Helaire running a flat route from the backfield. Between Edwards-Helaire pulling old friend Eric Murray (23) to the boundary and Roninson clearing space for clean break on Kelce's route, there's plenty of room to fit the ball into the tight end. Mahomes knows that option will be there, he gets the time and makes the easy throw.
Touchdown pass No. 2 needs a little more context before we get to the score itself. Sammy Watkins was the recipient of one of two scores that was called back in the first half.
Mahomes bootlegs left and has two speedy options available to him on that side of the field with Watkins and Mecole Hardman running layered whip routes in space. Mahomes makes the smart play, going underneath to Watkins with more room to operate and subsequently utilizing Hardman as a lead blocker. This was initially called a touchdown, but Watkins was down inches shy of the goal line.
Two plays later he finally got what he worked so hard to earn.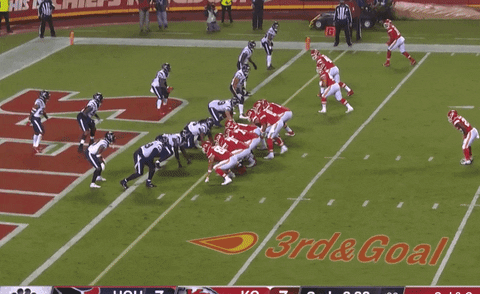 Almost every football coach's go-to two-point conversion play. Nothing special about the throw, here, just simple execution to get six. The touchdown capped off a 16-play, 91-yard drive that took 9:04 off the clock. Paul Johnson would be proud.
The final touchdown throw of the day was a short one, but it showcased a couple of Mahomes's greatest hits.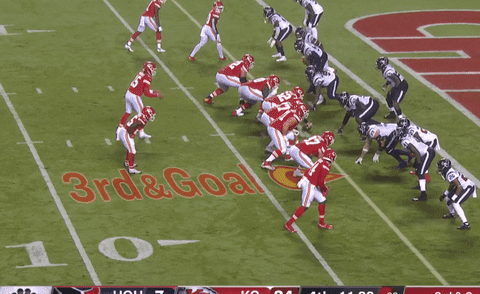 First, there's the play extension. Pressure comes from the middle and right, the direction of the roll, but he angles backward to create a little extra space. You can afford to do that when you have a hand cannon like Mahomes. He gets plenty on the throw and aims it perfectly, placing it where only Tyreek Hill has a chance to make a play on the ball. There's no defense for a perfect pass, as they say.
Where Mahomes did his most damage (and made his most highlight plays) on Thursday was in the middle eight, or the eight minutes comprising the last four of the first half and first four of the second half. There's an important strategy that can be developed around dominating that time frame, something Bill Belichick has done to great success for years. Against the Texans, it was when Mahomes did the most work making plays with his arm.
We start this case study with the longest completion in terms of air yards for Mahomes on the day, which sparked a late scoring drive.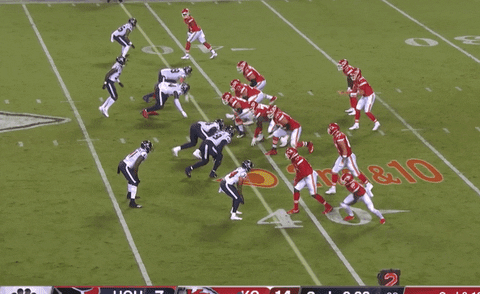 Watch how effortlessly Mahomes throws this ball. Watkins runs a corner route with a double move, creating separation near the numbers from cornerback John Reid (34). Mahomes has all day to set his base and release an accurate throw. He doesn't need to step into this one, instead using upper-body torque to generate all the velocity he needs and applying enough touch to allow Watkins to make a play on it. Quality throw here.
Next up, a simple off-balance throw to keep the chains moving.
You can see Mahomes anticipate late pressure from his right, but he still has plenty of time to let the play unfold without panicking. He gets knocked off kilter slightly because of the pass rush, but he still drops the throw into Kelce and 87 is able to get a nice gain out of it. Tack extra yardage onto this one because of a Houston penalty and the Chiefs were able to kick a field goal shortly thereafter.
Now, the second half of the middle eight. Once again it's Watkins who catches one of the game's deeper passes.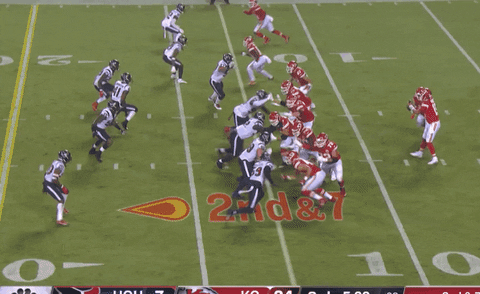 Mahomes moves the pocket right, alleviating the pressure with play action to the left. He's left on the run with a blocker directly in front of him, so there's an open window to hit Watkins. He has separation on the intermediate throw after A. crossing paths with Hill at the start of the route and B. making a sharp cut to the boundary. Mahomes hits him in stride with a pass on the move without his feet planted.
Finally Hill gets his own play in this week's Report, and it's the kind of play we've seen him make with Mahomes countless times over the past two seasons.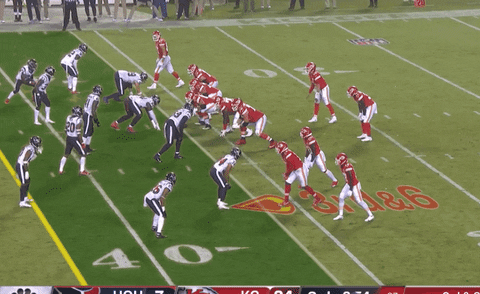 This time there's actually pressure on Mahomes and he needs to react quickly. Hill attacks the middle of the field with a dig route, and Mahomes takes advantage of his speed by lofting a throw low to the right, keeping it short enough where neither defender in the area can get to it and the placing it the perfect distance away from his speedy receiver, allowing him to catch up to it.When Hill is in space, Mahomes is able to use his speed to set up plays like this that are almost like a box-out in principle. Thanks to the positioning of the throw and the receiver's ability to get to a spot more quickly than anyone else, the defense is shielded.
We have a couple more positive plays to get to, including one that exemplifies the genius of Andy Reid.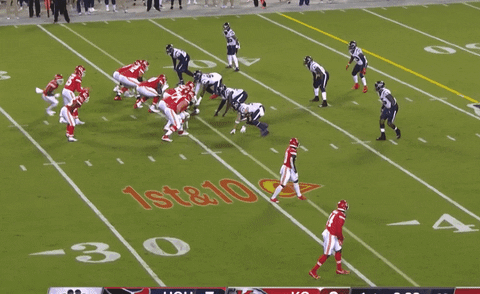 Just saying "middle screen to Kelce" doesn't sound like much, but the gorgeous window dressing here is what makes the play. Houston is employing a zone defense on this play. With the two fakes before the throw, Edwards-Helaire attracts attention in the left flat and Hardman does the same to the right. Mahomes is well behind the line of scrimmage, creating even more space for the play to develop. All the while Kelce engages an initial block and is then open for the screen. At its base, this is just a tight end middle screen, but the bells and whistles help create space and confusion among the defense, opening it up for a big gain.
Let's bring back a staple of the Chiefs' offense to wrap up the positives this week, a classic RPO slant.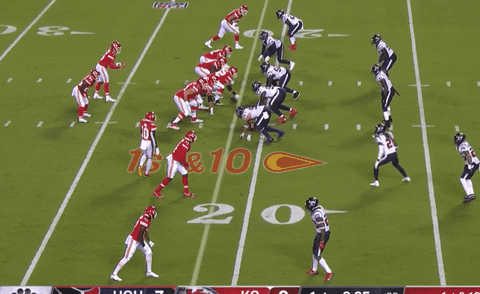 Linebacker Zach Cunningham (41), who just got a huge extension recently, is drawn to the run action to his right, vacating the middle of the field, while Hill draws attention to the defense's left in the flat. Watkins is left all alone on the slant, making the catch and getting the first down. This is a basic RPO concept and one that almost every football team at any level in America is using, but you can see why Reid likes to call them. Having a quarterback that always makes the right decision helps, too.
Arguably the two best throws of the whole game for Mahomes were called back on review and outright dropped by Robinson, which, frankly, is a bummer. Still, while it wasn't the human highlight reel type of stuff this week from No. 15, you can see that he's able to pick apart defenses no matter what is asked of him on a weekly basis.
Mahomes Bad
There was really only one negative throw that stood out, and it was a clear miscommunication between Mahomes and his receivers.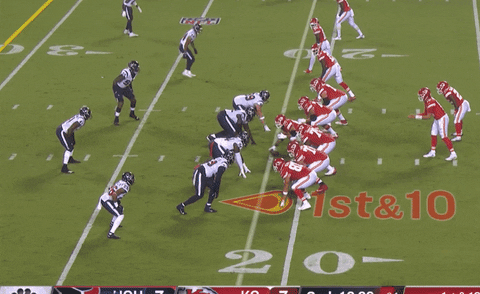 The immediate assumption is that this was intended for Hill, considering he was the closest Chief to the ball, but there was another deeper receiver who may have been targeted, too. Either way, this was nearly a giveaway when the game wasn't completely out of hand in the first half.
Non-Mahomes Good
Clyde Edwards-Helaire is already a problem.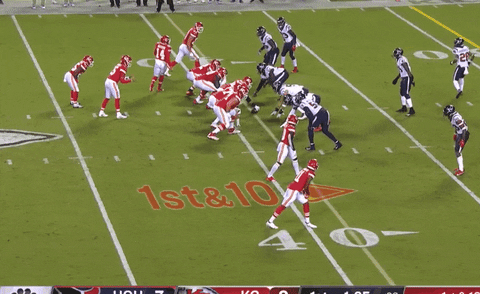 We know he's fast, we know he's shifty, we know he can catch the ball from various alignments. But when you actually see it all in action, watching him juke, break tackles, slip through holes, etc., you can see why Brett Veach and Andy Reid were willing to use a first-round pick on him this year. The Texans had no answer for the LSU product, who Travis Kelce said has the tight end's strength in a much smaller body. That's high praise for physical attributes.
He also scored the best highlight of the night with his touchdown run.
Who doesn't love watching a defender be put on skates? You can almost hear Edwards-Helaire thinking this when he saw Justin Reid waiting for him one-on-one in space:
As for the defense, a few plays from the Kansas City secondary stood out in particular. The biggest of the game was the interception by rookie L'Jarius Sneed, although Tyrann Mathieu was the one who truly forced the turnover.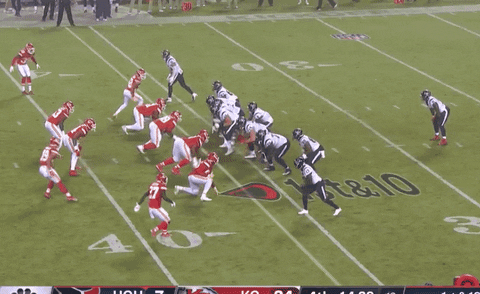 Cris Collinsworth did a good job on the TV broadcast explaining what Mathieu did to attack the quarterback on this play. He's blocked one-on-one by tight end Darren Fells, which you already know won't end well for the Texans. Mathieu pushes Fells back, then rips to the inside and gets free. He hits Deshaun Watson as the ball is released, allowing Sneed to field the ball like a punt for an interception. Excellent technique on this rush by Mathieu.
Sneed was mostly good in his NFL debut, and along with the interception he had an excellent pass breakup in the second quarter.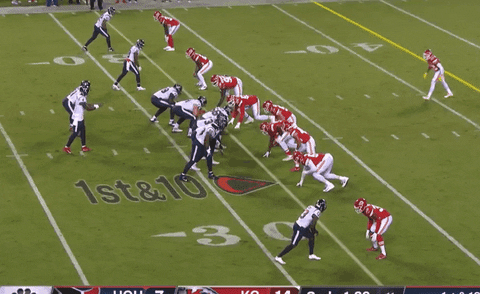 Bump and run coverage on the outside, where Sneed checks Brandin Cooks (13). Cooks is fast, but so is Sneed, and the rookie is able to stay stride for stride with the veteran receiver down the sideline. Watson, understandably, went after the fourth-round pick out of Louisiana Tech, but Sneed does a great job of not getting grabby, reacting to the ball and timing his swat perfectly. His sound technique made this one of the most impressive defensive plays of the game.
Non-Mahomes Bad
Of course, with rookies you're going to have highs and lows. For Sneed, as good as he was for most of the game, he also had a tough go of it in the first quarter, including on this Texans touchdown.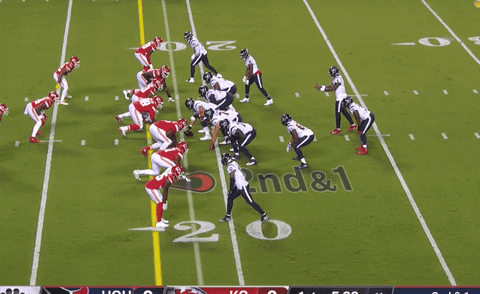 We've highlighted Sneed on this play, and he actually does a decent job diagnosing the run and breaking off his coverage. Unfortunately, he takes a bad angle, can't get a grip on the ball carrier and it ends up in a touchdown run. It's correctable and he more than made up for it later on Thursday night, but it's the kind of mistake you expect with most rookie defensive backs at some point.
Finally, the most shocking part of the game: Mitchell Schwartz getting beaten badly in the first quarter.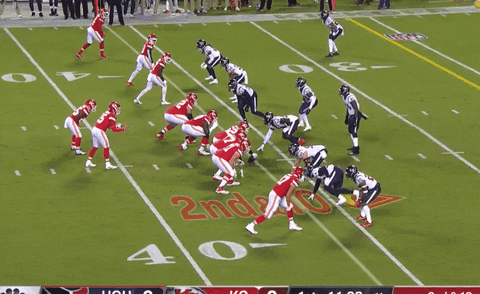 Schwartz is, at worst, a top-three offensive tackle in the NFL. He doesn't get beaten often, and he didn't at all during last postseason. Outside linebacker Jacob Martin gets him here, though, blowing by on the way to a sack. You're not going to see a protection lapse from Schwartz like this often, so when it does happen it's worth making note of.
---