Mahomes Report: Week 10 vs. Tennessee
November 11, 2019 7:15AM CST
Welcome to the Mahomes Report, a weekly breakdown from Brendan Dzwierzynski of what Kansas City Chiefs quarterback Patrick Mahomes did, either good or bad, during the most recent Chiefs game. For past editions, click here.
Unsurprisingly, Patrick Mahomes is still good.
That's the biggest takeaway from the quarterback's performance in a surprising Week 10 Chiefs loss to the Tennessee Titans. The coaching and defense didn't do him many favors, but the league's most recent MVP looked to be mostly back to his old self, although he's not quite as mobile as he would probably like to be.
His offensive line was held together by gum and toothpicks, and his receivers didn't play their best game collectively. Even so, Mahomes gave Kansas City a chance to win, or at least tie, on Sunday with a heroic effort.
| | | | | |
| --- | --- | --- | --- | --- |
| Comp.% | Yards | TD | INT | Rate |
| 72.0 | 446 | 3 | 0 | 119.3 |
Mahomes Good
Mahomes made one of the best plays of the week, and one that's also for sure going on his career highlight reel, with his last of three touchdown passes on Sunday.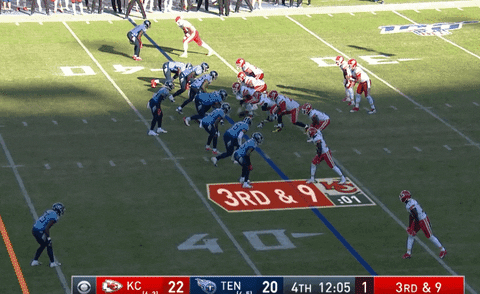 He doesn't have a great deal of space to make something happen here as the pocket collapses quickly in multiple directions, but he's still able to use his impeccable body control and balance to buy himself some space. Instead of dodging rushers on the ground, he jumps this time after stepping past the edge pressure. Mahomes throws this ball with great accuracy to Mecole Hardman, who started in the left slot and then bent back to the left at the top of his route to give his quarterback a usable target. Hardman then uses his 4.3 speed to race for the score. This play is foolish by Mahomes.
Working in reverse chronological order for the sake of optical pleasure, Mahomes' second touchdown pass this week was softly laid in the perfect spot for Tyreek Hill.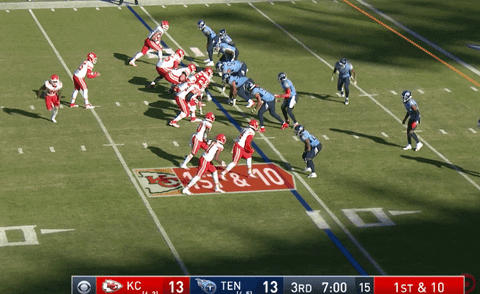 Hill runs an over route from the inside of the bunch on the right side of the line. His speed is so unstoppable that he just blazes past everyone on the defense with this route until there's only green space in front of him. That makes Mahomes' job easy. He has to throw from an awkward base because of the blitz pressure from the Titans. He's fading backwards and lofts a high-arcing throw into the end zone where his receiver is able to run right under it. Great route for this part of the field and a perfectly executed pass by Mahomes.
His first touchdown of the day was a simple one on a beautiful play in the Andy Reid playbook.
Titans linebacker Harold Landry (58) freezes on the play, which is what opens the shovel passing lane to Travis Kelce. Mahomes reads Landry, sees him bite on the run and knows he can feed his tight end. Speaking of Kelce, he follows a trap block from Andrew Wylie (77) for an easy route to the end zone. Mahomes makes the right read and dumps it to Kelce for a score with ease. Fantastic design for a goal line situation.
As we move past the scoring plays from Sunday, we'll move on to the other impressive throws from No. 15, including the Laser of the Week.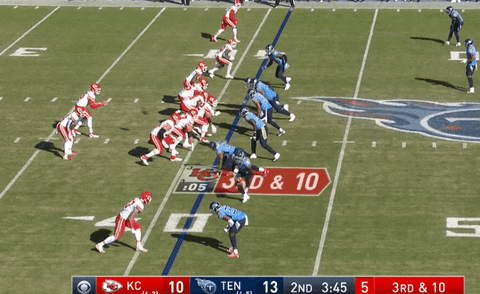 It always helps to have your receiver wide open in the middle of the field. Still, this is a challenging play for Mahomes. He has to get the throw back across the grain, across his body, while rolling to his dominant side. He sees Hill and knows where he's going with the ball, rolls right to create his own passing window and neutralize the pass-rush threat even more, then delivers a strike. A lot of arm strength is on display in this clip.
That's our top laser beam for the Tennessee game, but it wasn't the only one Mahomes threw. For example, this next pass was a dart in a crucial moment right before the game-ending disaster.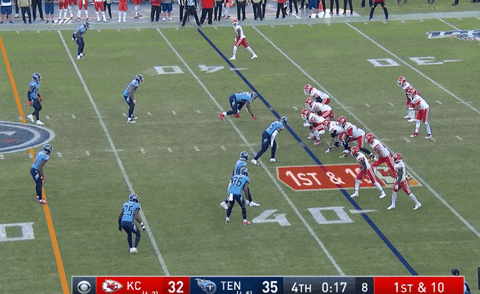 This pass travels somewhere in the neighborhood of 30 yards in the air on a frozen rope. It's not just long down the field but it also travels back to the left. Pythagoras could probably tell you the exact distance this ball traveled. Regardless of specifics, Mahomes has to make a long throw to a receiver who has two defensive backs in his immediate area. This ball needs to travel to an exact location and quickly, which he accomplishes by generating a strong velocity thanks to stepping in. This is an impressive combination of power and accuracy.
As fun as the lasers are, don't forget about the deep dimes.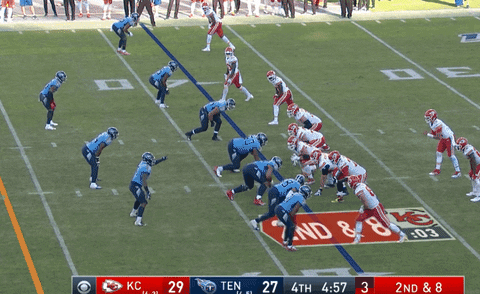 Hill's speed is probably the most difficult God-given ability to match up with in the NFL. If a pass is anywhere near him he'll be able to run under it. This time Mahomes hits him in stride, which nets him an extra couple of yards before an Adoree' Jackson tackle (another burner). Mahomes missed on a deep ball earlier in the game, which made seeing him connect with Hill late in the game (this play came in the fourth quarter) that much more significant.
Mobility is one of the biggest concerns with Mahomes as he returns from his knee injury (and ankle injury, for that matter). He didn't look fast by any means in Week 10, but he did show that he can still move with a heavily protected knee. These next two throws, both from the third quarter, are good examples.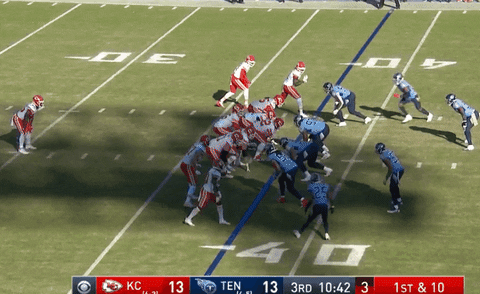 Demarcus Robinson is running free and Mahomes puts the ball right on him here. This is the flood concept to the right, with a short route, intermediate route (Robinson) and a deep route all to the right. Mahomes boots in that direction and makes an easy completion while moving to his target.
It was more of the same on this next play.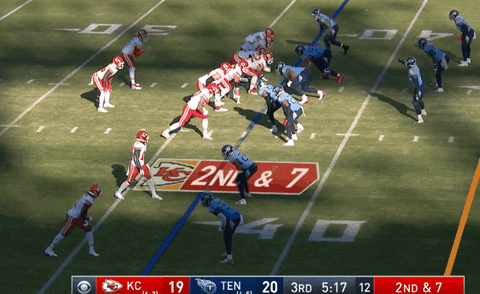 This time it's the smash concept, with a pair of hitch routes from the outside and slot while Kelce runs a corner from tight right. Mahomes checks to see if he can make the throw safely while rolling right. Once again he throws on the move and this time he does so with a lowered arm angle. It's an accurate throw for a big gain along the sideline. It's great to see that he's comfortable enough to make throws on the move.
Speaking of long throws to Kelce, though, that connection was working well in Week 10.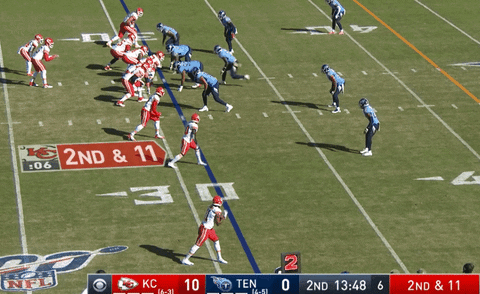 There's nothing too complex going on here, just a short drop in the shotgun by Mahomes and a pass that's ripped to Kelce for a first down as he runs a deep in. Kelce hasn't been an all-world tight end for most of this season, just a very good one (talk about first-world problems) but if these two can reestablish their remarkable connection it will be even harder to slow this team down.
Getting back to plays that showed off some nifty Mahomes footwork, he looked nimble in avoiding pressure here.
It's a quick move, but Mahomes has to hop through some hands diving at his feet. Moves the feet quickly, dumps it off and gains a first down. It can't be emphasized enough how important it is that he can move around well.
Our last couple of positive plays are actually callbacks to plays we've seen so far, because nothing in this world is original anymore. Ironic cynicism aside, Mahomes had to utilize the jump pass much earlier in the game than the touchdown pass.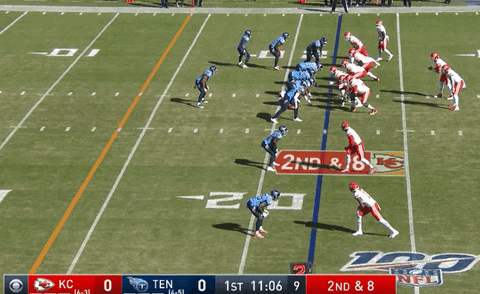 It's just a short throw here, but once again Hill turns little to no gain into a sizable play on the outside. We know that Mahomes can throw from an airborne base, he does it every week almost, but a straight-up jump pass is a new wrinkle. No defense wants to see him add even more tricks.
Remember the touchdown pass to Hill that was thrown while fading back? That same style of pass worked earlier in the game, too.
Fading away, lofted gently, Hill on the catch. Everybody likes a consistent quarterback. Hill has played some of the best football of his career in the last two games, which makes reacclimating Mahomes into the starting job that much easier (not that it was going to be a particularly difficult task). All things considered, it was a fantastic return for Mahomes in all ways except the final score.
Non-Mahomes Bad
There weren't many bad plays by Mahomes this week, although he did throw a couple risky balls that could have been picked off. That included the first play of the game.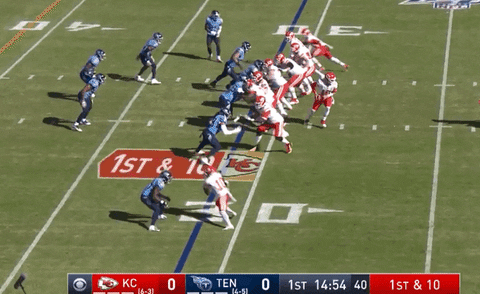 This was initially ruled an interception but was correctly overturned on review. You can understand why you'd dial up a deep throw on Mahomes' first play back, but this was an ill-advised pass into tight coverage. This is generally where the bad plays pop up with QB1, big opportunities in which he tries making a lot out of nothing. It's admirable, but also not always a great decision. There were a couple potential interceptions that were dropped or otherwise fell incomplete, but in general he avoided the disastrous mistake.
Non-Mahomes Good
There are a few arguments to be made about Chris Jones right now. You can argue that he's the second-best player on the Chiefs. You can argue that, at this moment, he's playing like the best defensive tackle in the NFL. He looked the part on both counts this weekend.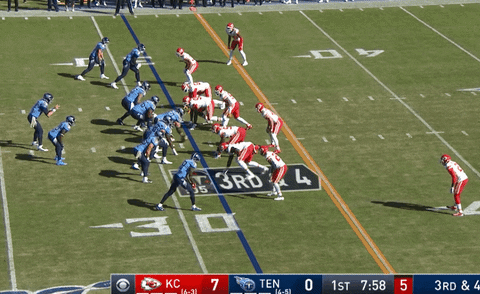 Jones gets double teamed here and two linemen combined aren't enough to slow him down. He's got a remarkable combination of speed and power, which allows him to shove and run past anyone he's lined up against. Not only does he get home to quarterback Ryan Tannehill, he also attacks the hand with the ball, forcing a fumble. He's a smart player and a scary one to line up against.
In fact, he was giving the Tennessee offensive line nightmares throughout the game.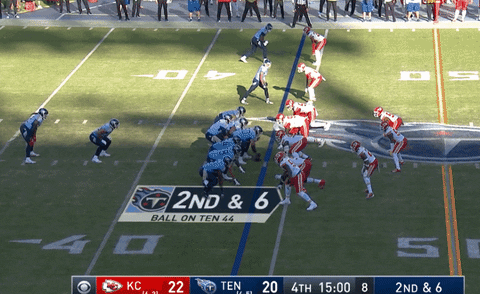 He gets double teamed again here, this time by left guard Rodger Saffold (76) and running back Derrick Henry. Once again, that's not enough. He powers past Saffold, shakes off the chip attempt from Henry and is left one on one in space with Tannehill. The quarterback will not win that fight. He is a difference maker in the strongest sense of the phrase.
We also need to show love to Emmanuel Ogbah, whose breakout season is unfortunately over, but who looked good once again in Week 10.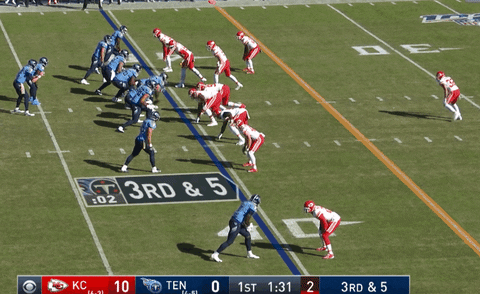 Nobody even gets a hand on Ogbah until he's already blown past everyone. This play features a right-side overload with Ogbah, Jones and Tanoh Kpassagnon applying heat on that side. Jones and Kpassagnon overpower that side of the offensive line, which allows Ogabh to stunt inside without any resistance, eventually busting through the middle for the sack. Defensive line coach Brendan Daly's group executed everything to perfection here.
Unfortunately, Reid announced after the game that Ogbah has a torn pectoral muscle, which will sideline him the rest of the way in 2019. With the above sack, he tied a career high in sacks with 5.5 in just 10 games. He's been a revelation and will be desperately missed as the season winds down.
Non-Mahomes Bad
Picking on Cam Erving probably isn't fair because we all know what he is at this point, but he's going to get his quarterback killed.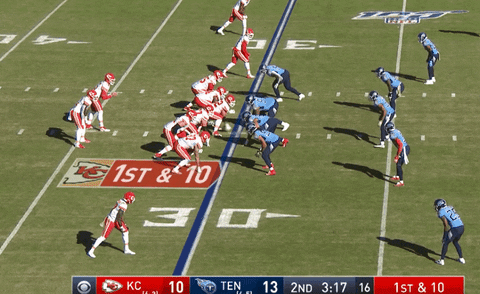 He doesn't have the physical ability to keep up with a speed rush off the edge and he doesn't have good enough technique to compensate. He's completely ineffectual here. This is especially bad because the offensive line has nearly no depth now. Mitchell Schwartz got hurt against Tennessee, and while he was able to return, Martinas Rankin, his initial replacement, had to leave on a cart. With so little depth along the line, there's even less margin for error for Erving. The Chiefs need Eric Fisher back badly.
Elsewhere on the offense, the running backs need to figure out a way to hold on to the ball because it's becoming an epidemic.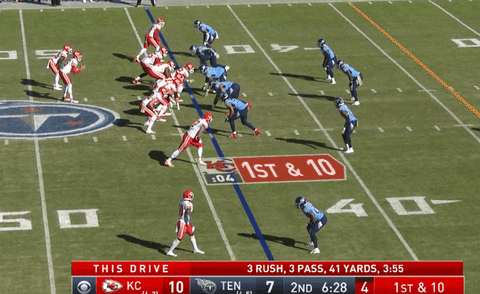 Three different games, all losses, have been turned on their head because of a running back fumble. It was LeSean McCoy against the Colts and Packers, now Damien Williams against the Titans. This scoop and score by Rashaan Evans (54) completely turned around a game that the Chiefs were in firm control of early on. McCoy was deactivated for the sake of veteran rest on Sunday, so Williams was the only legitimate option as the first-string option. Still, it's hard to maintain trust in your running backs when they continue to turn the ball over in key moments.
Now, the defense. One week after playing a fantastic game against the Minnesota Vikings, one in which the NFL's leading rusher was held to 71 yards on 21 carries, the Chiefs regressed in grotesque fashion against the Titans. Henry rushed for 188 yards on just 23 attempts, good for 8.2 yards per carry. That's embarrassing, there's no other way to say it.
Take the signature run of Henry's day, a 68-yard touchdown, as a prime example.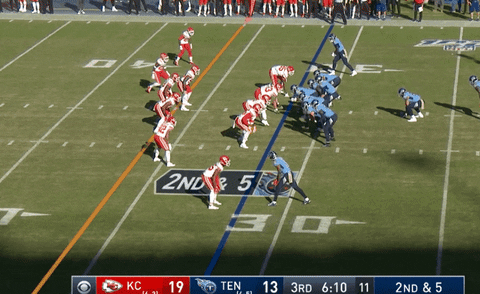 There were multiple opportunities for the Chiefs to make a stop, but a never-ending stream of missed tackles reappeared here. Good running backs make tacklers miss, but allowing 188 yards rushing on 8.2 yards per attempt is inexcusable. Keep in mind this was against the offensive line that is ranked 24th in run blocking DVOA, while Henry is ranked 25th among qualified running backs and the Tennessee offense is in the bottom 10 in rushing efficiency. In laymen's terms, Kansas City should not have been so bad at stopping the run on Sunday.
The most insulting run of the day actually came from Tannehill, who created some embarrassment on his own when he trucked Rashad Fenton.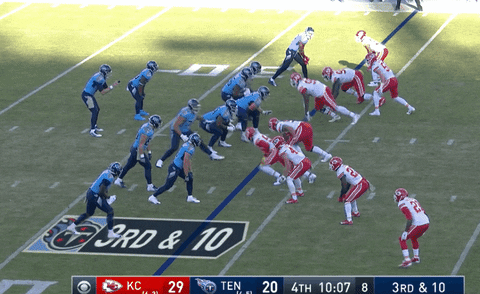 You can't let Ryan Tannehill of all people take you for a ride. Fenton needed to make a strong tackle here, but instead was dragged past the line to gain. In a key fourth-quarter moment the defense needed a strong play but went completely soft and allowed a first down. You can't have that at this point in the season.
Finally, the Titans' final drive, when the Chiefs' had no answer for the likes of Tannehill, Anthony Firkser and Adam Humphries. The following video contains the three plays that gained yards on that drive.
There's so much to hate about this defensive series. You can dissect plenty of it and critique both execution and coaching, but the bottom line is that the Chiefs need to figure out these issues soon. The Titans are playing good football recently, having now won three out of four, but Kansas City had no business losing this game. We haven't even gotten to a nightmare game on special teams, which included Hardman fielding a punt inside the five, an intentional grounding penalty on a botched field goal and then another blocked kick to end the game.
The Chiefs are going to make the playoffs, that's not a concern right now, but having a ton of questions with only so much time to find answers is. Patrick Mahomes did everything he could to win this game, but the rest of the team let him down.
---