Mahomes Report: Week 14 vs. Miami
December 16, 2020 3:44PM CST
Welcome to the Mahomes Report, a weekly breakdown from Brendan Dzwierzynski of what Kansas City Chiefs quarterback Patrick Mahomes did, either good or bad, during the most recent Chiefs game. For past editions, click here.
To win a game in which you turn the ball over four times is exceptional.
To win when your star quarterback throws three picks is both surprising and impressive.
And with that, the Chiefs are 12-0.
Patrick Mahomes did his usual thing for a lot of Sunday's six-point win over the Dolphins, throwing deep balls, chucking laser beams all over the field, turning his mobility into a weapon. But he also had a few head-scratching moments, ones that we almost never see from the potential MVP. In fact, it was just the third time in his career in which he threw for more interceptions than touchdowns.
Kansas City is 12-1 and Mahomes, despite the three interceptions, still passed for multiple touchdowns and 393 yards. All in all, that's a good day if you're the top seed in the AFC.
| | | | | |
| --- | --- | --- | --- | --- |
| Comp. % | Yards | TD | INT | Rate |
| 70.6 | 393 | 2 | 3 | 91.9 |
Mahomes Good
One of the best passes of the day, certainly one of the most aesthetically pleasing, was Mahomes's second touchdown, a textbook deep ball to Tyreek Hill.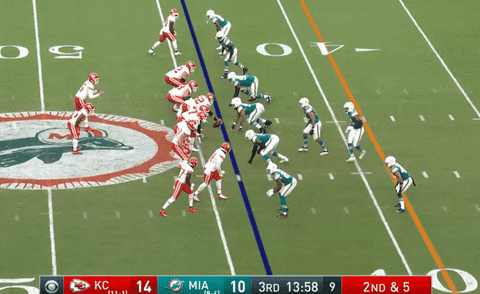 Due to injury, backup safety Clayton Fejedelem (42) was in the game for Miami on this snap. As gritty as the former Illinois Fighting Illini is, his skill set is no match for Hill. Thus, it was an easy decision for the Chiefs to attack the Dolphins deep here. Hill has an inside release on this vertical route, racing past the corner before torching the safety on the back end. Mahomes has an easy job on this play: Just get the ball out. Run action to the left take the defensive line in that direction, giving Mahomes all day to throw on a boot to the right. With no pass rush at all he can set himself and launch a perfect strike for the touchdown.
His other touchdown pass went to Travis Kelce, which also came after a rollout to the right.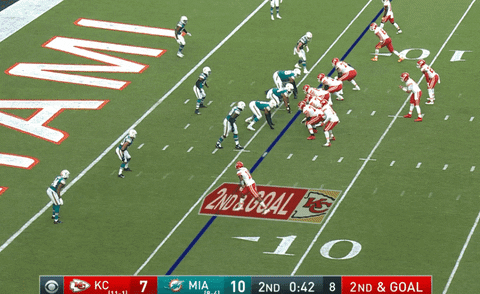 The protection is good, so Mahomes doesn't need to panic even as he runs out of real estate along the sideline. When he approaches the line of scrimmage linebacker Andrew Van Ginkel (43) has to crash down on him to take away the running lane. But, that leaves an open passing window into the end zone. All-world cornerback Xavien Howard (25) is also tight to the boundary and even takes a step forward to add a sliver of more space for Mahomes to make this throw. Kelce is better than anyone else in football at wading into an open spot in the defense, which is what he does here to catch the throw. Good design is complemented by good execution on this score.
Unsurprisingly, Kelce had a huge day beyond just this touchdown. He led all players with eight receptions and 136 yards, a large portion of which came on a handful of deep balls. In the first quarter, the tight end was on the receiving end of a laser that Mahomes was lucky to get off at all.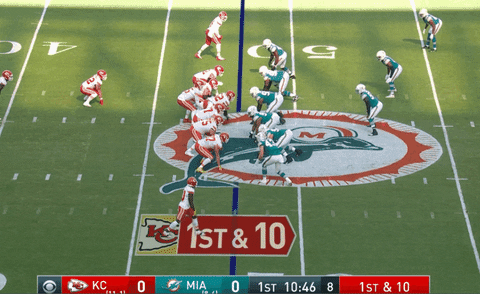 Defensive lineman Zach Sieler (92) gets pressure on Mahomes this time, so the quarterback has to evade and does so by moving both back and to the right. He gets away from Sieler but is still well behind the line of scrimmage. No matter, because he rips a high-velocity, tight-spiral throw to Kelce for a big gain anyway. It's a jump throw, too, adding to the already high level of difficulty on this play.
One quarter later, it was a precision bullet pass that opened up a big gain for Kelce.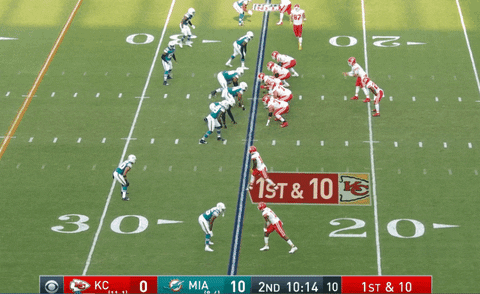 Safety Eric Rowe (21) is matched up on Kelce here, tailing him closely as the tight end runs the crossing route. Mahomes has decent time, even with his right-side protection weakening, so he can set up and step into a throw. That's vital because Kelce is the only viable downfield option here; everyone else is covered. Mahomes puts this throw on a line, threading it between Rowe and linebacker Sam Equavoen (49) to hit his target for the first down.
The next big pickup for the AFC's best offensive tandem had a lower degree of difficulty than these last two, but still required plenty of arm strength from QB1.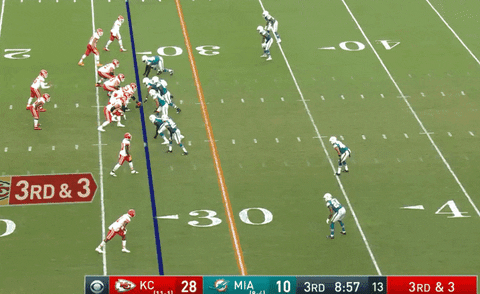 That is a long throw by Mahomes. From the far hash at the 19 to the top of the near numbers at about the 41. Pythagoras would agree that this was a tough one to complete. It helps to have great protection again, but you also have to compliment Mahomes for the precision on this throw. He puts it out in front of Kelce, allowing No. 87 to shield the defender and make the catch to convert on third down.
Lest we forget about one more connection between these two, featuring Kelce going off to make a play.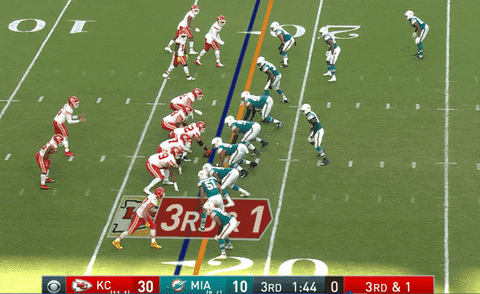 This is what the kids call getting Moss'd. Kelce goes up, reaches over Rowe and hauls in the pass. The best tight end in the NFL just keeps killing it. But let's not ignore what Mahomes had to do to complete this pass. This time around, the protection does not keep QB1 out of harm's way, with Christian Wilkins (94) getting a nearly free run at Mahomes. That forces him to fade away from the play while throwing, sending his momentum one way and the pass another. However, he still gets plenty behind the ball, launching a rainbow over 30 yards downfield to where his tight end can make a play. That's the best way to deliver a throw when pressured, so Mahomes truly made chicken salad out of you-know-what.
The reptilian solar being made his presence felt as well with a couple of big plays this past Sunday.
This is a simple one from the first quarter, but it features a cool YAC play and a slick throw. Mahomes has all day to find a target, who just happens to be totally uncovered. Shading over to his right, Mahomes whips out the slide step and sidearms a pass deep down the middle of the field. Simply put, this kind of pass is just fun to watch. Watkins and Hill are running levels to attack the defensive zone in the middle of the field, but the former's excellence here comes after the catch, dekeing Rowe and picking up a ton of yards, tacking on a hurdle for good measure.
Watkins was also the beneficiary of a play that saw Mahomes navigate the pocket perfectly.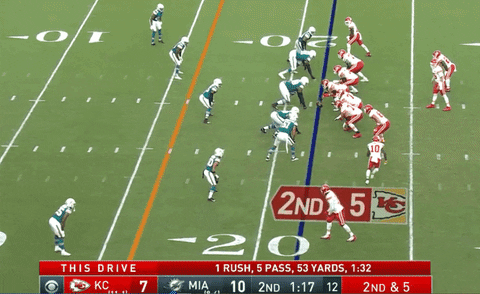 You don't see the fake shovel pass off, but Mahomes feigns a pitch to Kelce before dropping. The Dolphins' pass rush doesn't bite and is able to collapse the pocket. Mahomes isn't phased, nimbly stepping through defensive linemen to climb the pocket and finding Watkins down the field. He steps up, shoots a dart to his target and picks up the first down. Great elusiveness.
Our next play is being featured this week just because it's unstoppable.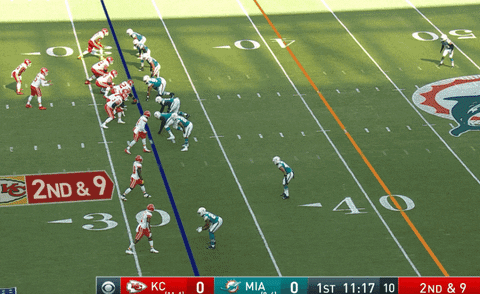 Wheel! Clyde Edwards-Helaire (or any Chiefs running back) is almost always open on this play, they just have to be looking for the ball and it will pan out perfectly. A linebacker is responsible for CEH and gets taken out by a Kelce block. Just concede 15 yards and move on if you're the defense.
Fittingly, we will close the positive plays this week with what was the de facto dagger late in the fourth quarter.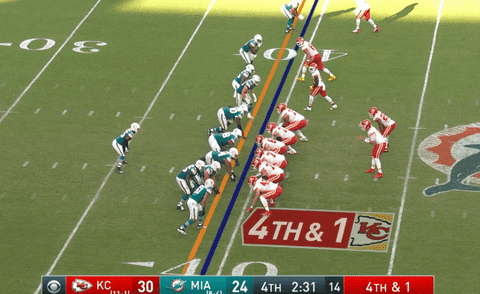 This is a perfectly designed play, and probably should have been run on third down instead of waiting for fourth down. Hill runs the flat route off the right end of the line, getting plenty of open space thanks to Kelce screening Howard, who's crossing the defensive formation as the man responsible for Hill. Mahomes sees the opening instantly, delivering a quick strike off the bootleg for the conversion.
Mahomes Bad
Mahomes has only thrown three interceptions in a single game twice: in 2018 against the Rams and this week against the Dolphins. The second pick this week was the worst pass of the trio.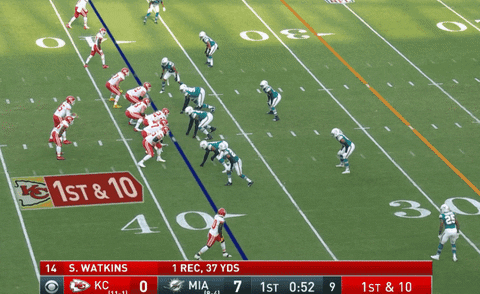 No need to make excuses here, it's just a poor play. Mahomes is sliding to the left and throws back to the right, but he throws it too high for Edwards-Helaire. The short running back can't haul it in and it gets taken away by Rowe. Everyone makes a bad throw sometimes.
His final interception of the day, which came in the third quarter, was on an underthrown pass, but it also took a highlight-reel catch by Howard to result in a takeaway.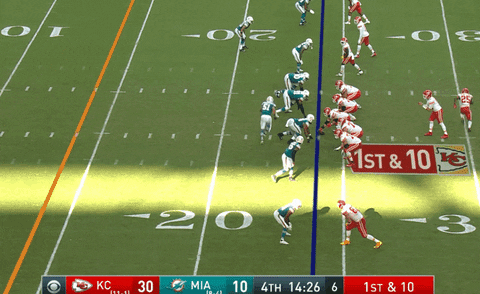 If this ball is thrown past Hill instead of underneath Hill it's a touchdown pass. Instead, the underthrow gives Howard a chance to make a play. He made an incredible play to haul it in, though, and should get as much credit as Mahomes gets blame for this one.
Back to the first quarter, Mahomes's first interception was the result of a great recovery by Miami's Andrew Van Ginkel.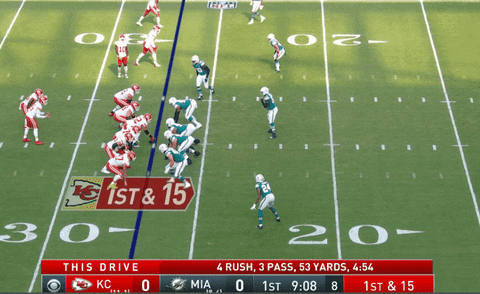 Kelce takes Van Ginkel (43) down to the ground with a block, but the linebacker is able to pop back up and deflect the pass to the tight end, allowing Byron Jones (24) to take it away off the carom. You could argue that Mahomes should have seen Van Ginkel lying in wait, but truthfully it's hard to expect this kind of quality recovery.
Lastly, we have to get to the 30-yard sack.
Throw the ball away, man. You will happily take the occasional big sack with Mahomes because his ability to evade defenders leads to spectacular gains more often than not. But that's more acceptable when it's a loss of 10-15 yards on a sack, not 30. Overall, it was a terrible first quarter for Mahomes, with this being the wackiest of the mini disasters.
Non-Mahomes Good
There were a handful of good plays from the Chiefs, non-Mahomes division, this week, but we'll focus on some promising signs from the defensive line. First, and maybe most importantly, Frank Clark put together a good day on Sunday.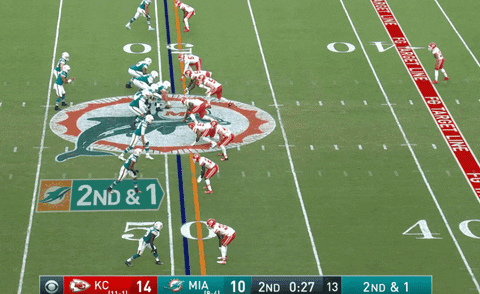 There isn't anything fancy about this sack, it's just a speed rush from one of the league's best even-front defensive ends that beats a rookie left tackle. Clark gives Austin Jackson (73) a slight shoulder dip to gain leverage, but otherwise just sprints by him and beats him for a sack on Tua Tagovailoa. The Chiefs desperately need Clark to be at his best as the playoffs approach, so this was a promising sign.
Chris Jones came up with a clutch sack as well, earning two points for his work.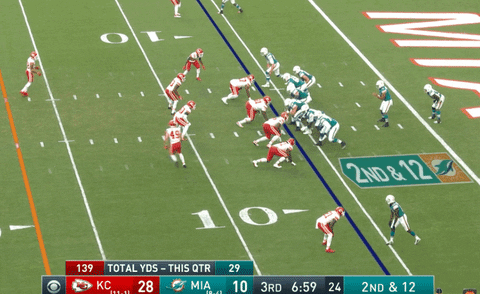 This was one of the best defensive plays of the game by either team. Jones starts this play as the near defensive tackle. Watch what he does to get free and record the sack. He bounces off of rookie Solomon Kindley (66) and stunts to his left, getting free and beating Ted Karras (67) to the quarterback. Brendan Daly's defensive line was solid all the way around on this down, and Jones's speed helps make the play.
And a hearty "welcome back" to Turk Wharton.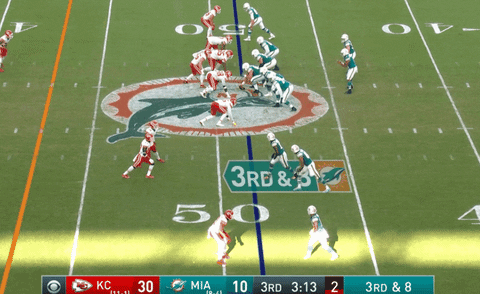 Wharton has been a revelation for the Chiefs defense this year, although his impact hasn't shown up in splash plays as much recently (not to say he hasn't still been making an impact). But the undrafted rookie beats the fourth-round pick, Kindley, with a fantastic interior pass rush move. Watch how quick his cut is. He fakes right, gets Kindley off balance and beats him with speed to the left. The Kansas City defense should be just fine entering the postseason if the defensive line continues to trend upward.
Non-Mahomes Bad
In all likelihood, the Chiefs are not going to commit four turnovers again this year, or at least not with regularity. That doesn't make the four giveaways in Week 14 any better, though.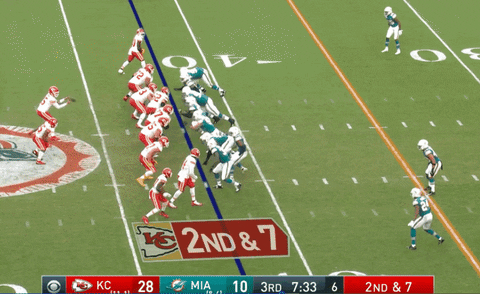 It was a nice play here by Mecole Hardman until the fumble, and it took a textbook "Peanut Punch" by Jones to force the turnover, but still, ball security is job security. The more important the games get, the less you can afford to give the ball away.
It's also probably a good idea to cover the other team's best offensive weapon.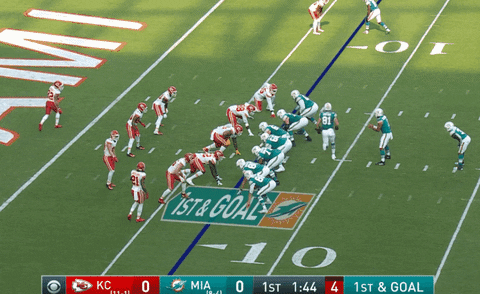 This feels like a Chiefs red zone touchdown, with the tight end somehow left alone near the goal line despite being the most dangerous option on the field. Oh, Ben Niemann was the one who left him to chase Tagovailoa? Interesting.
---