Mahomes Report: Week 4 vs. Detroit
September 30, 2019 7:45AM CDT
Welcome to the Mahomes Report, a weekly breakdown from Brendan Dzwierzynski of what Kansas City Chiefs quarterback Patrick Mahomes did, either good or bad, during the most recent Chiefs game. For past editions, click here.
Week 4 was hardly the most exciting Chiefs game of the season. Nor was it the most inspiring, nor was it the best game from Patrick Mahomes. His yardage total looks impressive, but it was a relatively pedestrian game for the third-year Chief (notice the use of "relatively," because the bar is absurdly high for him).
This was a rare game without a Mahomes touchdown pass, but it did hearken back to his first career start in Week 17 of the 2017 season. No touchdown passes but made a major impact by leading a late game-winning drive. Toughness, grit, moxie, whatever adjective you want to use is probably applicable here.
Detroit played far above expectation for not having its top cornerback, but still couldn't get it done against Kansas City when the latter's quarterback had one of the worst games of his short career. Depending on your perspective, that either speaks positive volumes about the Chiefs and their QB, or it makes you nervous about where they currently stand.
| | | | | |
| --- | --- | --- | --- | --- |
| Comp. % | Yards | TD | INT | Rate |
| 57.1 | 315 | 0 | 0 | 81.0 |
Mahomes Good
Without any touchdown passes to show off this week, we'll start with the most important part of the game: the fourth quarter. It's when legends are made, and Mahomes added another chapter to his story with an excellent late performance this week.
The Chiefs opened the fourth quarter up with some trickery that was set up by a risky, difficult throw from Mahomes.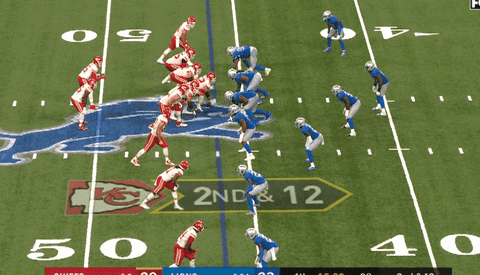 Obviously, the biggest highlight in this clip is the chicanery Travis Kelce and LeSean McCoy are involved in. But Mahomes needs to make a play while in escape mode to set the whole thing up. His eyes stay up the entire time as pressure caves the pocket in and he evades to the right. Late pressure from linebacker Devon Kennard (42) forces Mahomes to make a quick decision. Because he never stopped watching his receivers, Mahomes knows he can hit Kelce, even though he has to throw across his body to get the ball there. He throws it while leaping with momentum dragging him away from the target and still makes an accurate throw to his tight end. Kelce and McCoy do the rest from there.
Later on this drive Mahomes made good use of his rarely scene but constantly effective scrambling ability.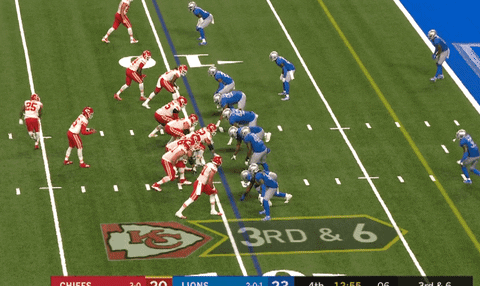 Most fans (and coaches, probably) don't like seeing their franchise player risking his body more than he has to. Mahomes is selective when it comes to when he takes off and runs, and it's almost always the right choice when he does it. It's not quite Rodgers like (because the future hall of famer was the best at scrambling at his peak), but Mahomes is certainly capable of making plays with his legs. Once again he keeps his eyes up the entire play in case a passing lane opens up, and once he's forced to keep it he protects his body by angling toward the boundary and even slides out of bounds. We'll see more of Mahomes' leg work later.
Back to his arm, though, this week's game didn't feature any splashy deep balls, but it did feature a master class in touch passes, such as this one to Kelce.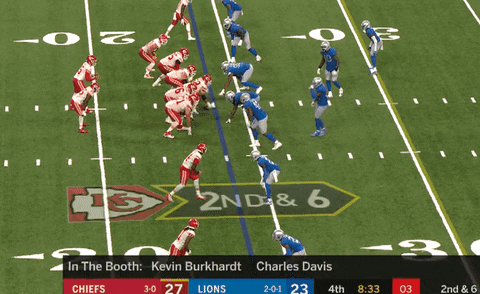 The most impressive part of Mahomes' accuracy isn't that he always gets the ball within his target's catch radius, rather that he almost always puts the ball where only his man can grab it. That's the case here, and he does it with soft touch instead of a dart. It's a good thing he can add this kind of touch, too, because there's no room to step into this throw. Pressure forces a quick throw at the top of the dropback, and Mahomes times his release with the break on Kelce's corner route to perfection. It's not as easy as it looks when there's a defender draped all over your receiver.
Let's see some more running.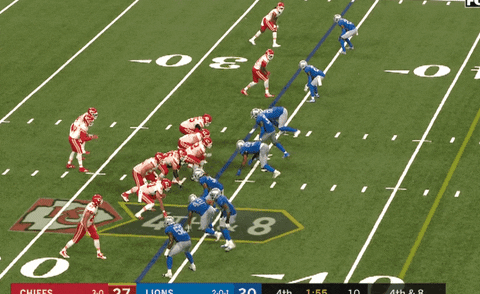 When the game is on the line and you need a play, you trust your best player to do whatever it takes to stay alive. Mahomes decides early that he's keeping this ball (watch him tuck it well before the line of scrimmage) and he's sprinting to get the first down. The game is effectively over if Mahomes can't convert this fourth down. He makes a quick decision and gives 100%; can't ask for more in this situation.
The eventual completion on this next play was the easy part. Scrambling around the pocket while trying to keep the play alive was the challenge.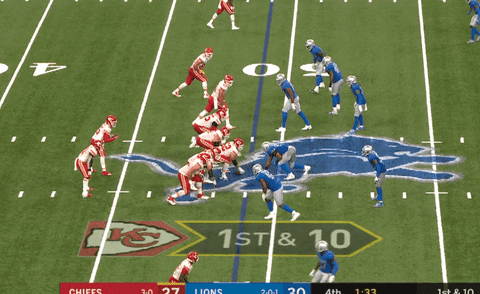 It doesn't matter what the game situation is, Mahomes and his receivers can pick apart a zone defense. Kelce does the smart thing here, just coasting a few yards downfield, standing and waiting until Mahomes can find space to throw. No. 15 has to show off fancy footwork like he's a Chromeo album to find that space, but he eventually does. This play isn't about mechanics or play design, it's all about patience. A snap decision, whether it's a throwaway, forced throw, etc., likely doesn't end in a large gain like this.
Mahomes ended his game with a throw to Byron Pringle of all people to set up the winning score.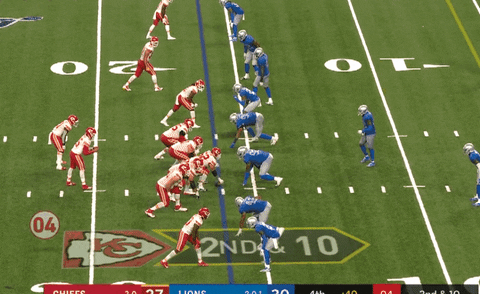 Pringle is as far down the depth chart as it gets, but he stepped up when called on in a huge moment. This play is built around the mesh concept, with Pringle and Demarcus Robinson running the mesh over the middle. Past tendencies, however, are what make it so effective. Watch Lions safety Tavon Wilson (32), who begins this play in center field before breaking to his right to cover Darrell Williams running a flat route out of the backfield. The Chiefs' running back passing game is the best in the business and had been used effectively already in this quarter (not shown here). With Wilson out of the way and Pringle getting separation from the natural pick in the mesh, Mahomes has an easy throwing lane to take advantage of. First and goal, game (effectively) over two plays later. Andy Reid, Mahomes and co. executed this red zone situation flawlessly.
There were a handful of standout plays for Mahomes beyond his fourth-quarter effort. First, our Laser of the Week.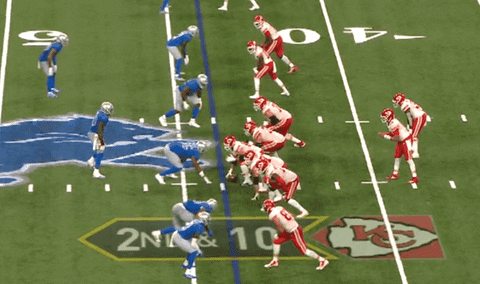 Football is a game of variables, but there is one constant regardless of opponent, venue or any other factor: the wheel route is always open. It's Williams running the wheel up the right hash from the backfield, and while a touch pass could have gotten the job done here, Mahomes unleashes a frozen rope to hit his man. Excellent throw to his man in stride. No linebacker has a chance to cover this.
Kelce had a huge day for Kansas City, leading the Chiefs in receiving with seven grabs for 85 yards. This next one got the wheels turning for the exciting fourth quarter.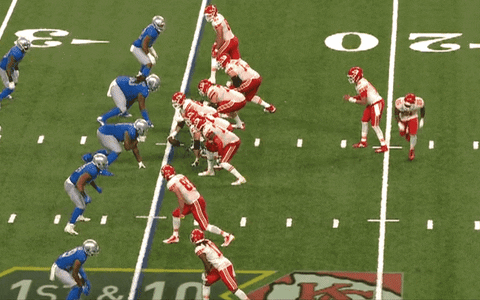 Throwing while fading away from the play is hardly a show of good mechanics. When you can do that and throw this accurately, you'll still take it. Mahomes has to shuffle back because of the pass rush up the middle. What works in his favor is another zone look from the Lions, meaning Kelce can navigate between defenders on his corner route. Once again, this tandem picks apart a zone. Good throw, excellent route running.
That was a third-quarter throw by Mahomes to his left. So is the next pass, although the degree of difficulty is ratcheted up because he's on the move to his right.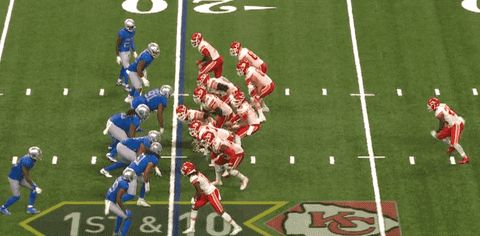 Another similarity between these two plays: They both came against zone coverage. Smart receivers know how to navigate that, which Robinson does by camping out here. The initial option is McCoy in the flat, but he's well covered. Mahomes progresses past that read, continues to buy time by rolling and then stepping up and then fires to Robinson. It's never easy to throw the ball back across the grain like this. This is reminiscent of last week's Report and the section on pocket manipulation. Mahomes moves the pocket and creates a big gain again here.
Another, more subdued, example of that ability was on display in the first quarter.
You don't need to scramble halfway across the field to shift the pocket. Here, Mahomes slides slightly to his left and it makes all the difference. He buys time to avoid Kennard's blitz and opens up a bigger window to throw through. Sammy Watkins is on the bottom of a stack with Robinson in the left slot. That helps Watkins get open on his crossing route, and Mahomes tracks him across the field. He's got separation from the defensive back, the pass hits him in stride and it's one of the biggest gains of the day. Another excellent example of staying poised in the pocket and taking advantage of a well-designed route.
RPOs were a big focus last week because Baltimore was an easy target for that part of Kansas City's attack. The Chiefs found success with them again this week against Detroit.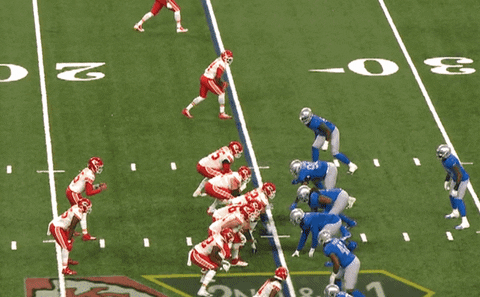 The Chiefs took the run option plenty of times on Sunday, which is how McCoy found a lot of his yardage on the ground. It worked when Mahomes elected the pass option, too. This is nothing unique, a simple stop route to Kelce to establish rhythm early in the first quarter.
Reid drew up something craftier later in the period, though.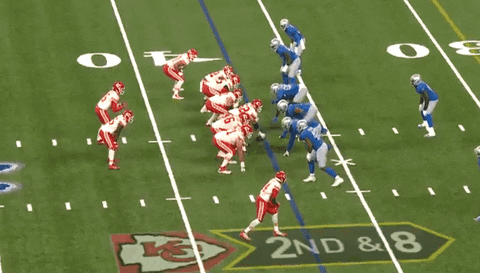 Deon Yelder might be a Demetrius Harris clone. He's lined up tight on the left end of the line and is running a crosser. Kelce is a wing to his left and is running the most important part of the pattern. His action across the formation not only delays the pressure from Kennard (making him a non-factor in the play) but also draws in inside linebacker Jarrad Davis (40). Davis has to respect Kelce in the flat, leaving Yelder wide open in front of the safeties. Kennard is also the RPO read for Mahomes, so when he breaks in initially it sets the big passing play in motion. Mahomes makes the correct read and fires a strike to his tight end. More fantastic design on display.
There are a lot of negatives to get to this week, so let's just admire some more strong completions before we get to the bad stuff.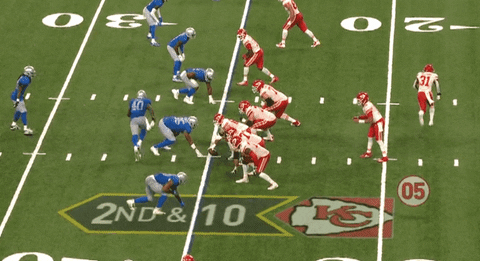 The Chiefs made a lot of hay on crossing routes this week. If this throw is any softer it's a hospital ball headed for Watkins, considering the defensive back barreling down on him. Instead, it's an accurate pass with good velocity.
Lastly, some love for the offensive line.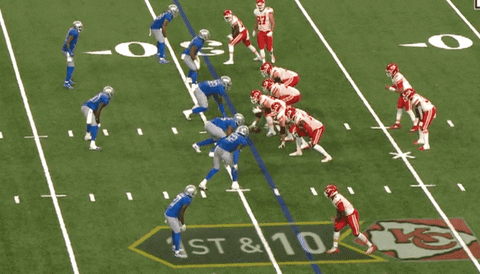 They didn't deserve a ton of love in Week 4, but they did all the hard work on this particular play. Mahomes has all day to throw and he uses it to find Kelce on a deep hitch. He'll tear you apart on the move, if you use a zone or if you give him time in the pocket. Talk about pick your poison.
Mahomes Bad
The recurring theme for the Chiefs' offense this week was that they were simply out of sync. There were a lot of throws that would normally be completed that ended instead in miscommunication between Mahomes and his receivers.
There are numerous examples of this, starting in the first quarter.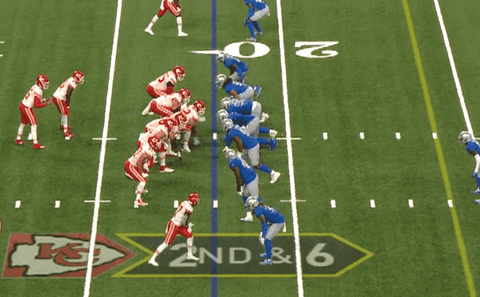 This is a throw to no one in particular. It's unusual to see a Mahomes throw land nowhere near a receiver. The Chiefs' offense is so efficient and is such a machine that all the pieces normally operate with complete cohesion. One miss is nothing more than a blip on the radar. but multiple becomes a concern.
Working chronologically, the next unusual miss is a deep ball in the second quarter that Mahomes has completed under congruent circumstances countless times.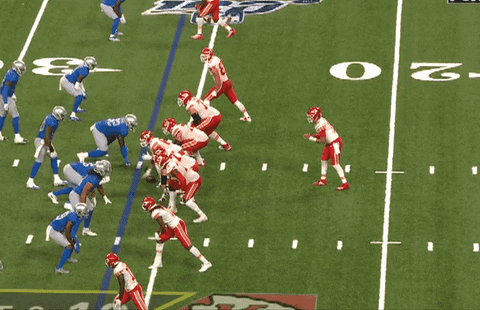 Robinson is running a fade from the left slot down the sideline, and in one-on-one coverage this play is normally a huge gain. Not only that, but Mahomes has a ton of time and is able to set up his base and step into the throw. It still comes up empty.
There was more of the same later in the second quarter.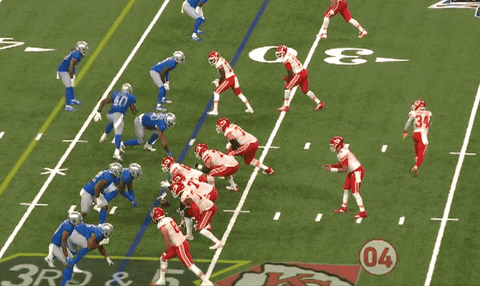 Mahomes has made throws like this before, setting up in an awkward position and adjusting his arm angle to be more precise with his ball placement. However, normally he has to contort like that because of a messy pocket or some other adverse situation. This time he just threw sound mechanics to wind and flung it up for his man off-target. This one is particularly frustrating because Mecole Hardman had a step on his man and would have avoided the safety helping over the top if the throw had been on a line. For as much success as Kansas City had on crossing routes this week, this was one they missed out on.
On to the third quarter, we have another uncharacteristic miscommunication.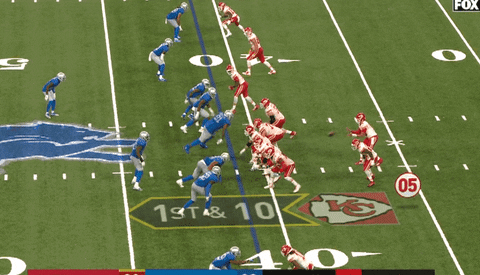 Robinson is running a go route while Mahomes throws a back shoulder comeback. Missed throws happen, but again, there's rarely if ever this kind of miscommunication between QB1 and his receivers, let alone multiple times in a game. Detroit found something that worked to get Mahomes off kilter, and it was nearly enough to pull off an upset.
We even saw a strugglesome exchange on an RPO handoff at Ford Field.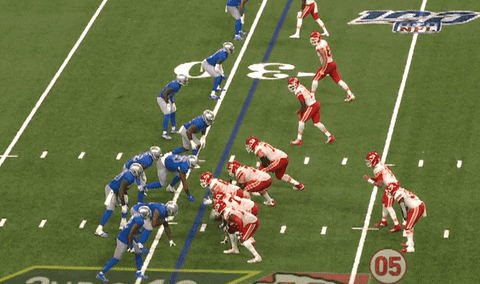 Williams had the ball punched out by the Lions' defense after Mahomes' hands were out of the way, but it's still an awkward-looking exchange that is normally second nature for this offense. These things are only concerns if they become habit over the next few weeks, but it's jarring to see this many miscues in the Chiefs' execution.
Non-Mahomes Good
McCoy has proven most of his doubters wrong through four games with the Chiefs.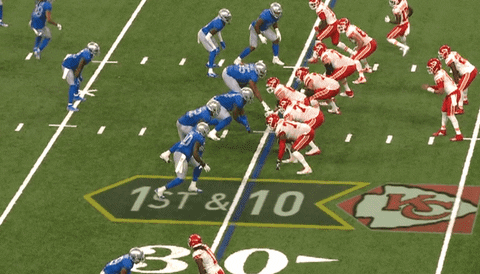 He benefits from not facing stacked boxes, but week after week he's busting off big runs and keeping Kansas City's run game a legitimate threat while Damien Williams is on the shelf. He led the Chiefs in rushing this week with 56 yards and a touchdown on 11 carries. If he's giving you that type of production on a weekly basis he is one of the best late signings in the NFL this season.
On the defensive side, it was a day to remember for Chris Jones.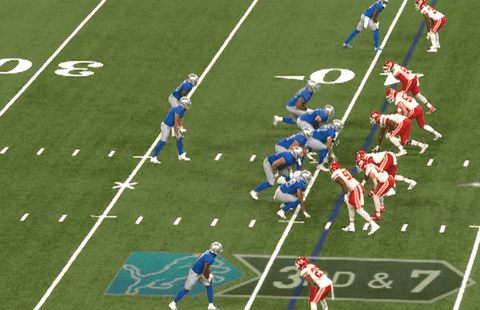 Sunday was a game reminiscent of Jones' most dominant days in 2018. On this sack Jones is no match for left guard Joe Dahl (66). The only move is a simple rip by Jones, shoving Dahl off to his right, then he used his speed to close quickly on Stafford.
Then, later in the game, Jones nearly caused a turnover.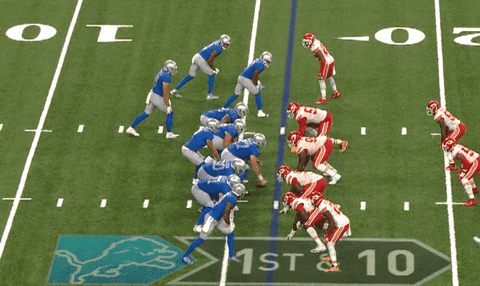 This time, Jones is matched up on right tackle Rick Wagner (71) and just uses his pure strength to beat him. Wagner is on his heels from the jump, unable to counteract the power-speed combination from Jones. He's too big and strong to match up with one on one. Emmanuel Ogbah gets leveled by wide receiver Kenny Golloday on an unexpected block, and tight end TJ Hockenson stays into protect too, but neither of them affects Jones, leaving Wagner to fend for himself. That's not a great place to be.
One of the biggest plays of the game was another sack, this one coming courtesy of Tyrann Mathieu.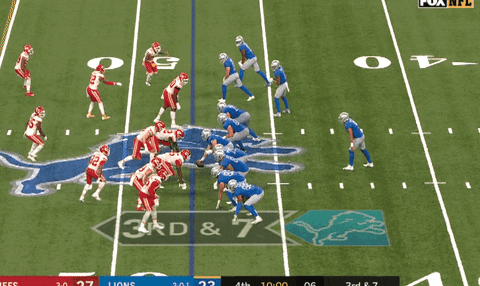 FOX TV color analyst Charles Davis hypothesized that this blitz wasn't even schemed, that Mathieu saw something he could take advantage of in the blocking scheme and went for it. Whether it was planned or not, this is why the Chiefs went out and signed the Honey Badger. He's a playmaker, something the defense was sorely lacking last season. Secondary blitzes have become a strong suit for the defense this year, though; Kendall Fuller recorded a sack on an unblocked blitz in Week 2 against Oakland.
And Emmanuel Ogbah continues to make big plays.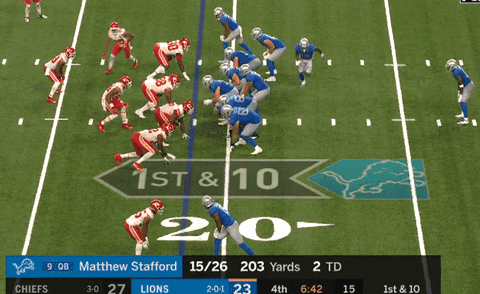 When Wagner pulls as the Lions' lead blocker on this play, it leaves wide receiver Marvin Jones Jr. (11) to block Ogbah. That went about as well as you would expect. Running back Kerryon Johnson (33) has no chance to hit the corner before Ogbah gets off the block and it leads to a big loss at a crucial juncture in the game. He's been the best edge-setting defensive lineman for Kansas City in the first quarter of the season.
Lastly, we need to show this touchdown and praise the head's up play by Bashaud Breeland.
https://twitter.com/NFL/status/1178387011360546816
Watch No. 21 fly in, pick up the ball and never give up on the play (even though the Lions did). The referees did the right thing here by not blowing the play dead right away when Breeland picked the ball up. It's a fluky touchdown that is hardly part of a defensive scheme, but you have to love that Breeland was paying attention and never gave up on it. Points are points, fluky or not.
Non-Mahomes Bad
Growing pains are a necessary evil for the Chiefs' defense right now, that's a fact of life. Even with that in mind, though, it was not a good weekend for defensive coordinator Steve Spagnuolo's group. It was a mixture of still growing into the scheme and old bugaboos coming back that nearly doomed the unit on Sunday.
Take this big gain by the Lions' passing attack, for example.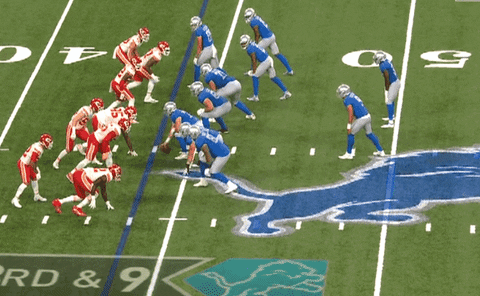 The bluffed blitz is fine and creates traffic in the pocket for Matthew Stafford. The problem is that when everyone drops back into the zone, nobody picks up Golloday running a deep post. Breeland isn't fast enough breaking on the play and it turns into a huge gain. Someone needs to be prepared for the opponent's top receiver running free.
Another busted coverage led to a touchdown by Hockenson.
Once again Breeland has to break off his coverage and by the time he gets to the target it's too late. Tight ends have given the Chiefs fits for years, and in this particular case Hockenson ended up wide open out of a trips bunch formation. You can't stop all passing plays in today's NFL, it's impossible, but these two plays showcase opposing receivers being more open than they should be.
Additionally, tackling is still an issue against the run.
If you're going to commit a blatant facemask, you better at least bring the guy down. Xavier Williams didn't do that here and J.D. McKissic ends up with a long run. Johnson had 125 rushing yards for Detroit in Week 4 and as a team the Lions ran for 5.3 yards per carry. Teams with even better offensive lines and better running backs will tear this defense up if the tackling doesn't shore up.
Lastly, Hardman has shown that he's a weapon with the ball in his hands, but he can't make highlight-reel plays if he can't stay on the field.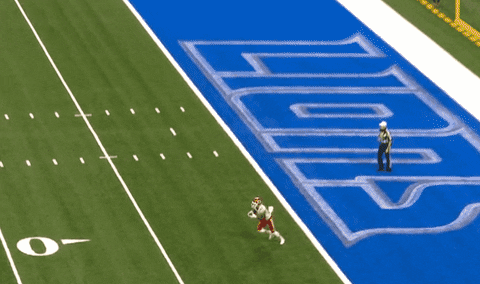 Hardman fumbled the opening kickoff of the second half and was replaced the rest of the way by De'Anthony Thomas on kickoff duties. The Lions deserve credit for their aggressive ball attacking this weekend, but the Chiefs need to value ball security more. That's not an issue in general, given their stellar turnover margin during the Reid regime. For Hardman, however, it's a lesson he'll need to work on quickly.
---