Mahomes Report: Week 5 vs. Indianapolis
October 8, 2019 7:45AM CDT
Welcome to the Mahomes Report, a weekly breakdown from Brendan Dzwierzynski of what Kansas City Chiefs quarterback Patrick Mahomes did, either good or bad, during the most recent Chiefs game. For past editions, click here.
The sky isn't falling for the Kansas City Chiefs.
Now that that's out of the way, Week 5 was an especially bad one for one of the AFC favorites. There are easy explanations for why it was such a bad game, most notably injuries. That includes a hobbled Mahomes, the team's top two receivers effectively not playing (Sammy Watkins left the game after two snaps) and the offensive line crumbling to pieces right before our eyes. The Chiefs still had a chance to win despite the rash of injuries, however it wasn't a situation that was conducive to a pretty game or stat sheet.
Mahomes didn't have his worst game by any stretch this Sunday, but it also didn't look like one of his typical efforts.
| | | | | |
| --- | --- | --- | --- | --- |
| Comp. % | Yards | TD | INT | Rate |
| 56.4 | 321 | 1 | 0 | 91.9 |
Mahomes Good
The game and completion percentage got ugly as Sunday night progressed, but Mahomes' peak in the loss to the Colts was a touchdown pass that every Chiefs fan will remember for a long time to come. It's also our Laser of the Week.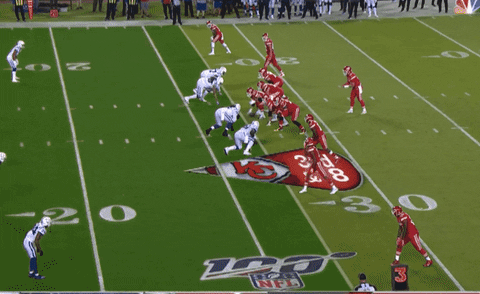 Mahomes doesn't have much time to camp out because the Colts break through the offensive line eventually (that was a trend in Week 5), so he's got to run backwards and look for daylight. His underrated speed came into play here and he turned into the one extremely athletic kid who always played quarterback and was impossible to stop in elementary school two-hand touch. The escape is one thing, but the throw is stunning as well. He rips off the throw with a relatively compact motion, putting a ton of velocity on the pass despite rolling to the right and throwing back across his body. Fundamentals mean nothing when you can do anything. Nothing about this situation should have led to a perfect throw, but Mahomes made one anyway.
The deep ball wasn't a plausible option for most of the game this week, but QB1 did make one great throw into traffic in the third quarter.
Mecole Hardman was interfered with and bumped out of bounds on his route, but re-established himself in bounds in time to make the grab. Mahomes is forced to throw awkwardly again because of the pass rush, jumping backwards while heaving this one. In spite of the mess this play seemed to feature, Mahomes drops it in to Hardman perfectly. Indianapolis cornerback Pierre Desir (35) can't locate the ball and safety George Odum (30) isn't able to get over in time to break it up. There's an element of luck involved here, but the placement is perfect nonetheless.
Because of the offensive line's disastrous performance, Mahomes had to scramble around all night long. That didn't stop him from making plays, though, such as this third-and-long completion.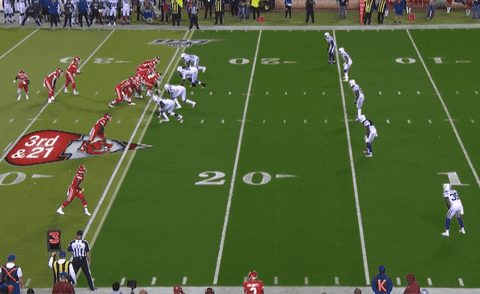 The unfortunate thing about this first-quarter play was that it didn't result in a first down, but watching No. 15 develop his escapability has been a joy to watch. He's within reach of defensive end Kemoko Turay (57) here but slips away with a spin move. Mahomes keeps his eyes up the entire time and you can see him scan the entire field looking for a target. Hardman ends up being the best option on the sideline. This was a major win despite not getting the conversion considering it realistically could have been a big loss.
Byron Pringle led the Chiefs in receiving this week and was the recipient of this dart.
Watching Mahomes make plays like this illustrate why it was so smart for Colts defensive coordinator Matt Eberflus to deviate from his norm and play plenty of man coverage instead of zone. More pressure from the edges forces Mahomes to step up and sprint right to buy time on this dropback. Pringle sits down in the zone at the top of his route from the right slot. Mahomes sees this, squares up and fires on the move, putting the throw on the money.
In another play from the first quarter, facing another long distance to gain, Mahomes pulled out one of his shortstop-inspired throws.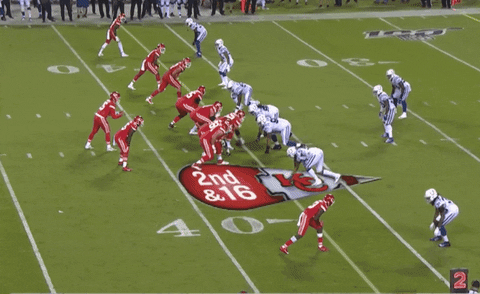 Travis Kelce has to break off his deep crossing route to work back to the ball, and Mahomes identifies quickly after going into escape mode that his tight end will be open in the zone. Mahomes is running to his left while looking back toward the middle of the field, goes airborne and throws sidearm with perfect precision. That's extremely difficult to do, specifically because there's no grounded base to generate power from. This pass is generated solely from arm and upper-body strength.
The last two featured plays were examples of Mahomes making something happen outside the pocket. The next one is an example of him staying inside the pocket and navigating pressure until he can find an open man.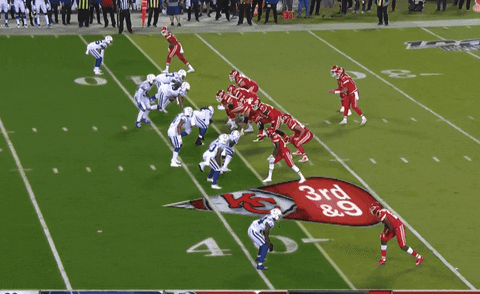 It's like a game of Frogger. Bodies are flying at him from the left, right and up the middle but Mahomes still navigates through all of them without losing track of his receivers. Hardman is working across the field, Mahomes sees him and gets the throw there (and we're even treated to an extra juggling act, how about that). The arm talent has obviously always been present and it's not as if he was a statue until recently, but he's done an excellent job of developing his pocket navigation.
He's so good outside the pocket and was able to take advantage of that early when he was more mobile, but because of the constant hits he took and his ankle issues that persisted late (more on that later), he had to make plenty of plays from inside the pocket, too. Of course, he did.
This throw and the next actually came before the worst of his ankle troubles, but they illustrate the adverse situations he faced between the tackles all night. Turay essentially gets a free rush when Mitchell Schwartz turns inside to block the blitz, so Mahomes needs to act quickly. He sees Kelce in the seam, changes the arm slot to get to an over-the-top release point and he still gets off an accurate throw. That's a strong throw in the face of pressure, knowing you're going to take a shot.
Then, on the following play, he drops his arm angle and gets off a quick throw with double-barrel pressure bearing down on him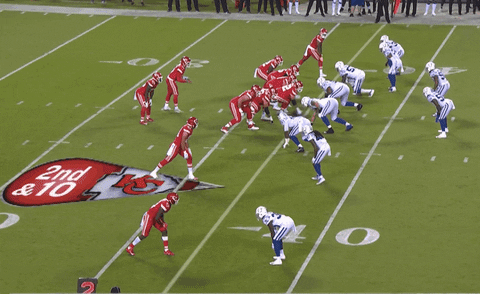 What an awful game for the Kansas City offensive line. Mahomes did his best in a bad situation, though. Demarcus Robinson gets a clean release on the inside with a slant route, so Mahomes has an open target if he can get the ball through the traffic in the trenches. He does so with a modified sidearm throw and a compacted windup. This play isn't usually such a difficult conversion.
Mahomes' first throw of the game was the following RPO completion to Kelce, a play which is somewhat unremarkable but, considering Chiefs fans are on the brink after the loss, still needs to be seen.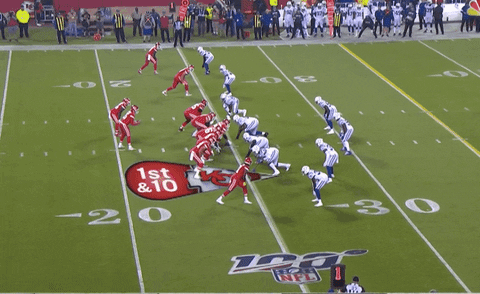 Kelce had a rough night, dropping a couple passes (as difficult as they may have been to complete), but this was a strong start against the Indianapolis man defense. It's a major oversimplification to say Kansas City should just spam plays like this, but when the full complement of receivers comes back it wouldn't be a surprise to see this more and more, reminiscent of last year's offense.
On the Chiefs' final scoring drive there were a couple throws that stood out, like this crisp pass to Hardman over the middle.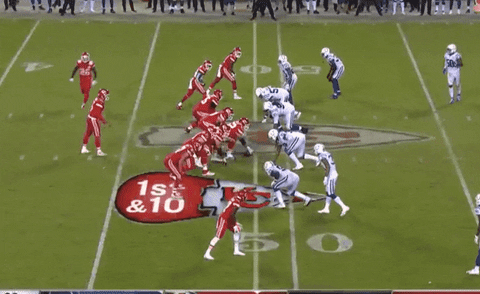 Nothing complicated here. Sit down in the zone, let Mahomes find you, easy completion. He was still throwing heaters late despite the abuse he took all night.
This drive inspired a faint amount of hope late, with our last clip being the one that got the Chiefs into scoring range the final time.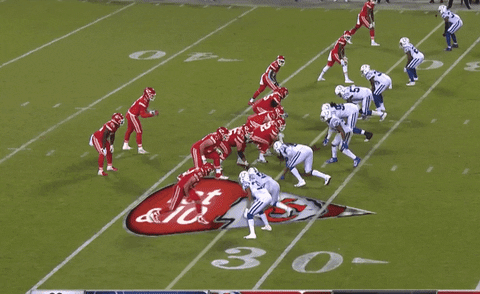 Kelce gets inside leverage on his crossing route against cornerback Quincy Wilson (31), which is not a winnable situation for any man in coverage. Mahomes got just enough protection this time to stand in and wait for Kelce to work all the way across the pattern, which allowed him to loft it more gently so that the tight end could run right under it.
Mahomes Bad
There weren't a ton of plays that were genuinely "bad" for Mahomes in Week 5, but like last week he and his receivers just seemed to be slightly out of sync again.
We're highlighting this play because it was the one major, notable miss on a throw that can be pinned on Mahomes. He spoke after the game about how much the man defense has thrown the Chiefs off their game the last two weeks, which to this point is the best strategy against him and his receivers. Of course, that strategy will be far more difficult to pull off when the best man coverage beater in the league, Tyreek Hill, returns from injury.
Robinson is a good No. 3 receiver. Hardman is developing into a quality weapon and has a ton of potential. The team likes Pringle for a reason. But when those three are your top three options at wide receiver in stead of options 3-5, your offense is going to look far different. And, again, injuries played a massive role in the outcome of this week's game. Healthy bodies will lead to better execution, but there needs to be a fix for as long as Hill and Watkins are out.
Non-Mahomes Good
Unfortunately, there simply weren't many positive moments that stand out from Week 5 outside of the best of the best from Mahomes. What was a good thing, though, was the first interception of the year for Tyrann Mathieu.
Mathieu was the best defensive player for Kansas City this week. Along with baiting this interception he made several plays at multiple levels, including a tackle for loss when the Colts had a second and two at the Chiefs' five-yard line. He's been as good as advertised for Steve Spagnuolo's defense so far this year, and it can't be overstated how important his presence has been from both a production and leadership standpoint.
Non-Mahomes Bad
Here's where it gets ugly.
There was plenty that went wrong defensively, but the biggest reason why the Chiefs lost to the Colts is because of the offense. For all the defense's faults, it still allowed just 19 points, which is below league average. If your opponent is scoring that little and you're at home, you should win, especially when the most gifted quarterback ever is on your team. The offense's miscues started with the offensive line.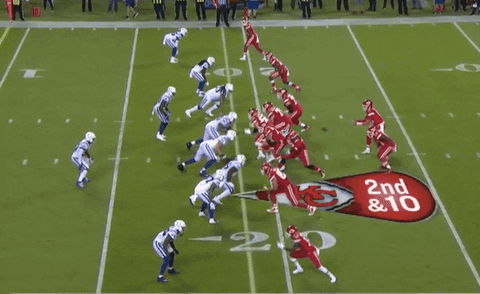 Cam Erving is terrible. That's not an opinion, that's a verifiable fact. He's decent if needed at guard and for a play here or there is at least a body at tackle. He nearly got his quarterback killed on Sunday though with efforts like this. Mahomes was sacked four times in Week 5 and this was the first one. Old friend Justin Houston still has some burst (and you know he was particularly enthused about this game) and uses it to easily beat Erving around the edge. There's nothing fancy about the rush, as he just slaps Erving's hands down and renders him useless on this play. It was the first of several embarrassments on the left end of the line.
The second sack of the game was another one of those embarrassments.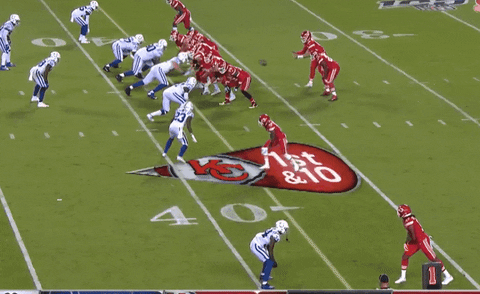 Cornerback Kenny Moore (23) comes on a very obvious slot blitz and makes Erving look foolish. Moore deserves a ton of credit for this play and his bend at the point of attack while maintaining his speed, but his blocker did nothing worthwhile to stop him. It's easy to pick on a backup lineman and he's a backup for a reason, so this may seem harsh. But when you consider scenes like this were commonplace all night, plus the fact he stepped on Mahomes' ankle and was flagged for a ridiculously unnecessary personal foul, he deserves the heat he's getting.
Even the good players along Kansas City's offensive line were getting beaten by the Indianapolis pass rush.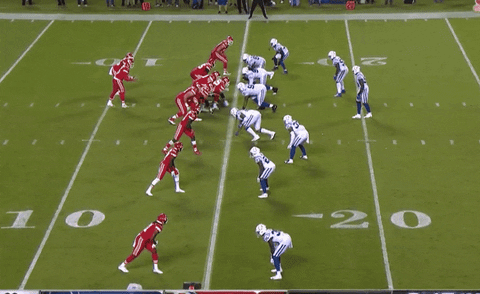 Laurent Duvernay-Tardif is a quality right guard and he was bullied on this rush by Grover Stewart (90). Stewart is a huge man at 6-foot-4, 315 pounds, but you have to make a better play when your quarterback is hurting and you're backed up inside your own 15-yard line. There was another sack later in the game that was more of a coverage sack for the Colts, but the general theme of the whole game was poor offensive line play from the Chiefs.
The skill position players weren't free of blame either, though. Fumbles were an issue for the Chiefs last week and were again in Week 5. LeSean McCoy gave the ball away on a possession that reasonably could have changed the complexion of the game.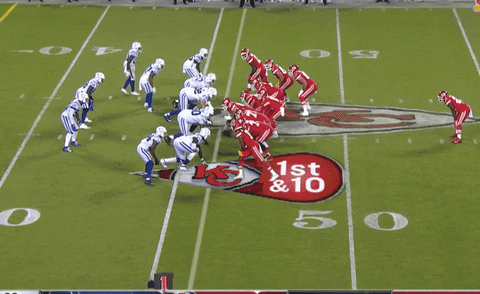 There's some irony in the fact that McCoy was carrying the ball much tighter than he normally does on this play but still had it punched out. Teams are going to keep doing this against the Chiefs until they learn to hang on to the ball. Against teams that hunt for turnovers (see: the Green Bay Packers, who come to town Week 8) that's going to be a major deciding factor in games.
Pringle also made a costly mental error late in the fourth quarter.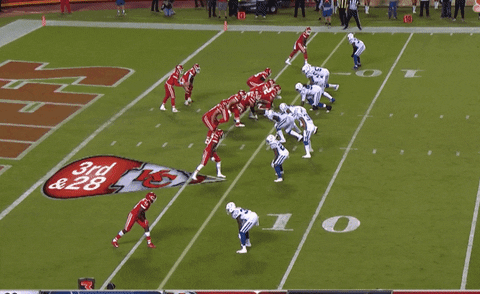 It doesn't matter what the distance to go at the start of the play was, you need to get this first down. Just run forward. There's no need to turn make a cut here, just run straight behind your blocker and you've got the first down. You can't afford mental errors like this when you have no room for mistakes. One of the Chiefs' regular receivers probably makes the right decision here.
As for the defense, Bashaud Breeland played his worst game of the year against Indianapolis.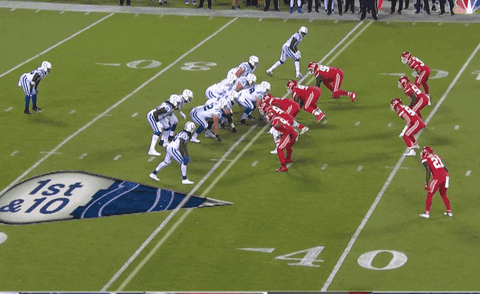 Breeland committed four penalties in the loss, including this brutal 53-yard pass interference. There was no need for him to create contact with the receiver here, as Charvarius Ward actually had good coverage. He's had four strong weeks to start the year, so one particularly bad week doesn't undo all of that good work. Still, he hurt the defense numerous times on Sunday. There's little room for error ever in the secondary, so he'll need to bounce back quickly next week when he's got to cover receivers like Deandre Hopkins and Will Fuller.
And the defense still can't tackle.
The Colts ran the ball 45 times for 180 yards this week, good for just four yards per carry but it also set the tone for the whole game. The Chiefs had less possessions than normal (nine, as opposed to their 10.5 drives per game average) because the Colts kept running clock off with the ground game. Arguments have dominated Chiefs Twitter in recent weeks about the importance of run defense, and those can stay in that space. But it was clear that Indianapolis planned to run until it couldn't run anymore in this game, and Kansas City never forced them to get to that point.
The offense was bad this week. So was the defense and so was the coaching. Even special teams played poorly. This game didn't expose any new flaws that we didn't already know about, however, it just showed how much they can actually affect a game. A lot of the issues will hopefully be fixed with more health, which means guys like Tyreek Hill and Eric Fisher, among others, can't come back soon enough.
---