Mahomes Report: Week 6 vs. Buffalo
October 22, 2020 8:00AM CDT
Welcome to the Mahomes Report, a weekly breakdown from Brendan Dzwierzynski of what Kansas City Chiefs quarterback Patrick Mahomes did, either good or bad, during the most recent Chiefs game. For past editions, click here.
Had the Kansas City Chiefs lost to the Buffalo Bills this week it would have led to a mutiny, or at least a riot, in the Chiefs Kingdom. Thankfully, that was avoided because of a 26-17 win on the road to get the Chiefs to 5-1 on the season, also known as the same amount of wins of every team in the NFC East combined through six weeks.
When you look at the numbers for this game for Patrick Mahomes, you can see the direct impact of his lofty standards making it seem as though he had a fairly pedestrian game. Only 26 attempts? Just 225 yards?
And, in fairness, it was hardly the most spectacular aerial display of Mahomes's career. He wasn't able to push the ball downfield as much because of the Bills' defensive scheme and talent. Still, there were the classic moments of greatness that made us drop our jaws to the floor in disbelief. They were fewer and farther between in Week 6 than in some other weeks, but they were special nonetheless.
| | | | | |
| --- | --- | --- | --- | --- |
| Comp.% | Yards | TD | INT | Rate |
| 80.8 | 225 | 2 | 0 | 128.4 |
Mahomes Good
We start this week, like we often do, with Mahomes's touchdown passes. We'll go in reverse chronological order this week, though, starting with his second scoring play of the day first. It was also his best throw of the game.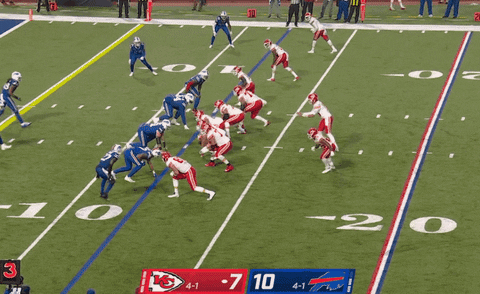 Travis Kelce runs a corner route and beats both Jordan Poyer (21) and Tre' White (27) to the back of the end zone. The offensive line holds up perfectly, giving Mahomes all the time he needs. From there, it's simple pitch and catch for QB1. Drop back, step in, upper-body twist, precise touch. It's a beautiful throw and play all around.
Mahomes's first touchdown throw featured a fun jump pass, too.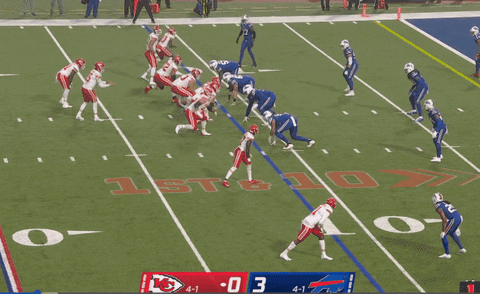 Once again, Kelce is the recipient. He effectively traps linebacker Tremaine Edmonds (49) in the middle of the field with his whip route, giving himself a ton of space to the outside. Mahomes has to navigate pressure this time, with the pocket getting muddy in front of him. He identifies his target, elevates from his base and puts the ball on the money. It's a heady play with a difficult situation in front of him.
The touchdown pass wasn't even the only time he had to elevate to hit his tight end.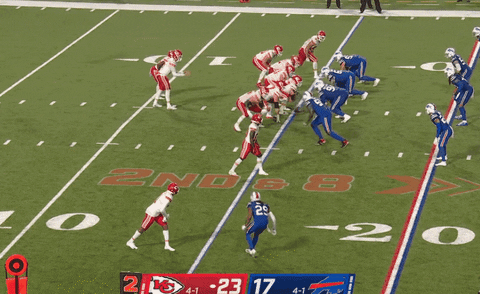 Kelce is completely abandoned down the field, while Mahomes had to lunge into the defensive line again, although he had slightly more space in his periphery than before. He still delivers a great throw, not allowing Kelce to keep running but completing it for a big gain nonetheless.
The most clutch play of the game came late in the fourth quarter, when Byron Pringle got to play the role of momentary hero.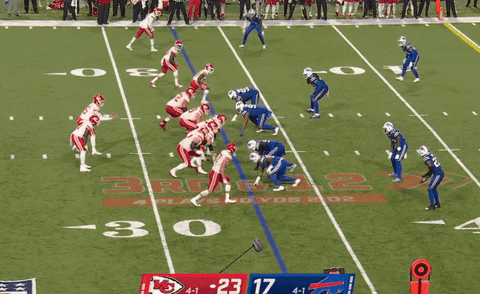 At this sage of the game, the Chiefs were facing a third down and 12 yards to go while only up six. Mahomes does a remarkable job on the scramble here, evading pressure out to the right to keep the play alive. Then, instead of booking it toward the sticks, he pulls up right at the line of scrimmage because he sees Pringle crossing the field in space.  It's not an easy throw, angled back across his body toward the middle of the field, but he makes it all work.
And Pringle needs a shout out here as well. He was effectively out of the play, standing beyond the far hash midway through the down, but he watched Mahomes scramble and worked back toward the quarterback to help. He ran right through a gaping hole in the coverage, made the catch and picked up 37 yards. Phenomenal play by the former Kansas State Wildcat.
Mahomes helped Kansas City put together a few long pass plays, starting with the following one in the first quarter.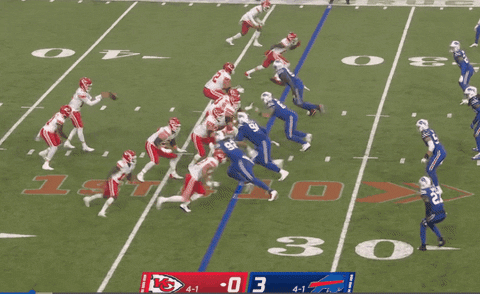 Demarcus Robinson doesn't show up often but every year it feels like he has a game or two where he's a star. That included Monday night against the Bills. Here, we see Mahomes navigate the pocket well once again, hanging in until scrambling left is the best option to extend the play. He finds Robinson along the far sideline and hits him with a throw on the move, passing and running in the same direction.
Then, late in the second quarter, it was a long dart of a throw to convert on third down and 14, our Laser of the Week.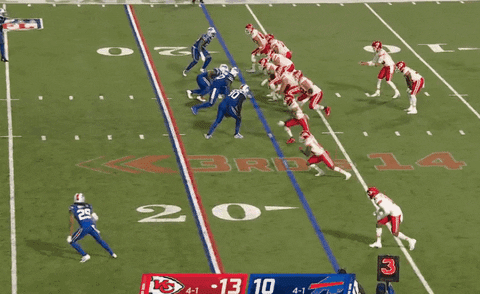 Joe Buck's commentary on this play involved calling it "third and forever" and then converting for forever. Quality line. And it's a quality throw, too, with Mahomes having to put a lot of velocity behind the throw to get it to Robinson on the near sideline. Watch his leg kick: it looks like he's throwing a pitch. He delivers an accurate strike with this fastball, sliding to his left, firing in that direction pinning it on his receiver. This throw traveled roughly 22 yards from Mahomes's right hand to the catch, and he executed every necessary step well.
Let's take a look at a sample for this week's screen game, which was on point as always. Although, this time around it had as much to do with Darrel Williams as it did Mahomes.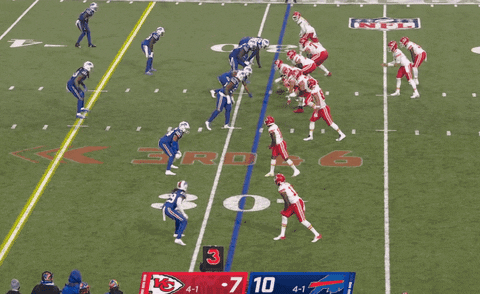 What a design and what a play by Williams, holding up after the catch and cutting back, completely taking Mario Addison (97) out of the play. Nobody is better at setting up screens in terms of play design than Andy Reid.
We'll wrap up the positive plays this week with a few impressive runs for Mahomes. That includes the short yet preposterous run that had Twitter abuzz in the third quarter.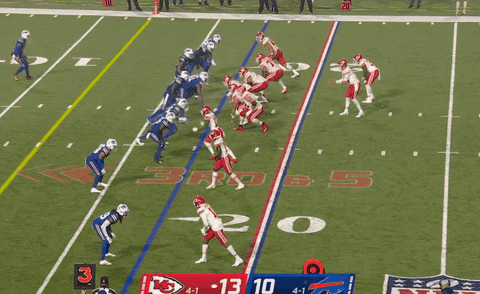 This is the kind of play that happens on Madden when you're just messing around on "Rookie" difficulty and are toying with the defense. You almost never see Mahomes throw away yardage on a play, which it looked like he was going to do, only to dive right back into the action near the sticks. It feels reminiscent, though not as culturally significant, as one of the most famous plays of Michael Jordan's career.
Lastly, a late, clutch first-down run by Mahomes on the final Chiefs scoring drive of the game.
This is just an all-around smart play by Mahomes. He doesn't wait in the pocket too long, he runs to daylight and slides in bounds, keeping the clock moving in a close game. He makes sure the defense stays to the left as best as he can with the pump fake, too, before taking off to the right. Another example of excellent situational awareness for Mahomes.
Mahomes Bad
An empty week in the bad section for QB1! It wasn't necessarily a perfect game, but no passes stood out as turnover worthy or an otherwise net negative. Which isn't surprising when your quarterback posts a passer rating over 128. If teams are willing to let the Chiefs run all over them because they play two high safeties for a whole game, Mahomes will be content to take short and intermediate passes instead.
Non-Mahomes Good
The best parts of the game, even when you including Mahomes's effort, belonged to Clyde Edwards-Helaire. He ran 26 times for 161 yards, both season highs, and he down right torched the Buffalo defense.
He got the big plays started early on with a 31-yard carry in the first quarter.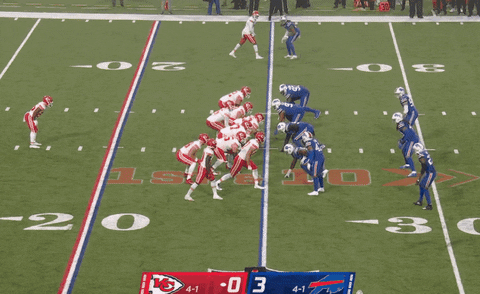 Jordan Poyer needs to retire after getting deked like that. How can you look your teammates in the eye after that? Edwards-Helaire put the safety, and a quality one at that, on skates while at full speed downfield. You have to appreciate being able to make an effective move like that in space, combined with the fact it doesn't completely stunt his run. He's able to keep running at full speed after the cut.
One of the most impressive runs for the rookie on Monday night came in the third quarter, when he effectively showed off most of the rushing traits that made him look like a first-round pick to begin with.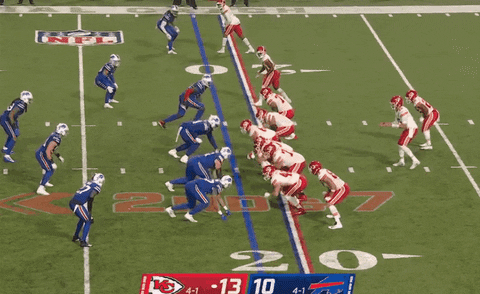 It starts with a good push from the offensive line, a group that bullied the Bills throughout the game. Edwards-Helaire hits the initial hole with purpose, then follows that by seeing the next opening at the second level to gain extra yardage (and it was a massive hole to his left). After shedding an ankle tackle, something he has consistently shown he can do, he turns up field at the 28-yard line and shifts into a second gear. You can see it in the video clip: His acceleration is fantastic and it allows him to zip past Poyer for extra yardage. This was one of the finest runs for Edwards-Helaire through the first few weeks of the year.
And, just for fun, let's look at this masterful RPO.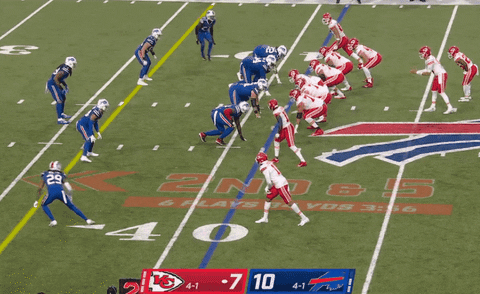 Mahomes reads the right end, Darryl Johnson (92), and makes the right decision to hand off to the running back. The interior line just abuses the defensive interior and creates a massive cushion for Edwards-Helaire, who makes one cut to the left and hits that next gear one again to pick up the first down. It was a banner day for the rookie tailback.
We also need to make note of this stellar interception by Dan Sorenson.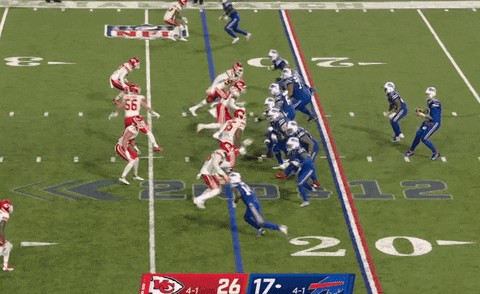 Sorenson actually played poorly for most of the game, and Josh Allen seemed somewhat checked out on this pass. Still, you make a one-handed interception, your clip makes it in The Report.
Non-Mahomes Bad
Mecole Hardman, man, what's going on?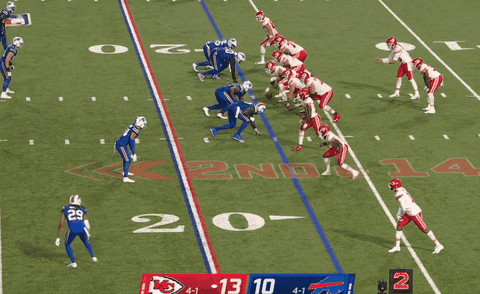 Hardman saw just one target in Week 6, this one that bounced off his hands and was nearly picked off. He's had declining targets since getting six of them in Week 3, and his kick returning has dropped off, too. 580 Sports Talk has led the #FreeMecole campaign since last season, but if he's doesn't start playing more consistently and better overall then he's going to start losing snaps and opportunities.
On the defensive side of the ball, what was going on at the end of the first half?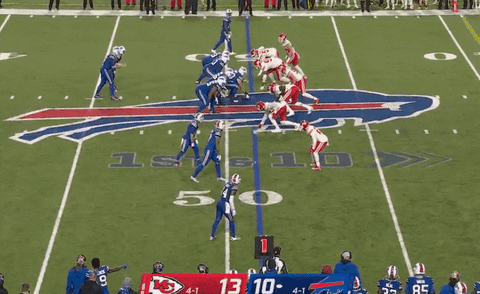 This play didn't result in any major damage because the Bills missed the ensuing 52-yard field goal, but the defensive strategy is perplexing at best, stupid at worst. There is no situation in which it is smart to leave Stefon Diggs entirely unguarded. The start of the second half would have felt much different had the game been tied and momentum resting with the Bills if they could have capitalized.
The Chiefs outplayed the Bills in almost every facet of the game. The offense didn't put up insane numbers, but they seemed to be in control throughout. The defenses had its share of lapses, but that unit held Buffalo to just 17 points. That's an encouraging win all around.
---