Mahomes Report: Week 6 vs. Houston
October 14, 2019 7:47AM CDT
Welcome to the Mahomes Report, a weekly breakdown from Brendan Dzwierzynski of what Kansas City Chiefs quarterback Patrick Mahomes did, either good or bad, during the most recent Chiefs game. For past editions, click here.
The one thing, above all others, that cannot happen for the Kansas City Chiefs is to have the franchise get seriously injured. He's not looking at any time off for now, but Patrick Mahomes is playing hurt and it's clearly affecting the team.
That's not to say he's at fault for consecutive losses, not even close. Play calling, bad defense and other injuries are weighing the Chiefs down right now. Still, Mahomes' bum ankle is hurting Kansas City.
He's doing the best he can while hobbled, but the same can't be said for some of his teammates. His stats and, understandably, the most exhilarating parts of the Mahomes Report have also suffered.
| | | | | |
| --- | --- | --- | --- | --- |
| Comp. % | Yards | TD | INT | Rate |
| 54.3 | 273 | 3 | 1 | 96.5 |
Mahomes Good
To be frank, the pickings for QB1's positive section this week are as slim as they've ever been. That's a function of another tough day completing passes, but also a far more limited repertoire due to play calling and his decreased mobility. There were still a handful of noteworthy plays, though.
That includes three touchdown passes, even though none of them featured his typical wizardry. His first score of the game came on a deep ball to the returning Tyreek Hill, who climbed the ladder to make one of the plays of the week across the NFL.
The Texans jumped off offside here, so Mahomes gets a free play. Smart quarterbacks will launch a pass with one of those, which No. 15 does right here. It's a contested pass, but Hill makes an absurd play to go up and get it. Hill rightfully gets credit for making the grab and reaching over the goal line, but Mahomes still had to get him the ball, and it's not as though it's easy to throw a ball 44 yards downfield.
Kansas City's iconic running back screen game came into play for Mahomes' second touchdown pass.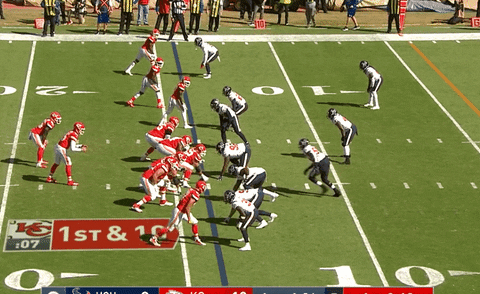 The combination of downfield blocking and no good angle for the unblocked defender make this a relatively easy touchdown for Damien Williams. Mahomes just has to hold on long enough for his running back to get open underneath, he avoids the raised arm of a charging defensive lineman and Williams does the rest.
His third touchdown pass could have realistically been a rushing score instead, but he fed Hill for another score in the latter's return to action.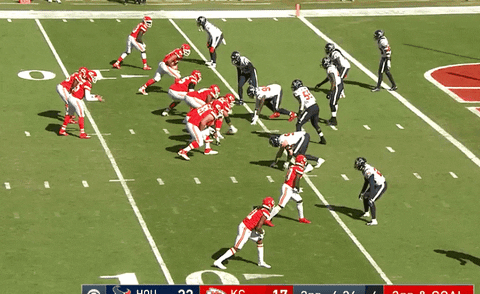 Former Chief Phillip Gaines, who struggled in his return to Arrowhead Stadium about as badly as he always did when it was his home stadium, is caught in no-man's land, as Mahomes has him trapped between the running and passing options. If Mahomes runs then Gaines has to break to his right, but Hill is also open to his left. He ends up stuck and Mahomes passes for the score. This play turned into a win-win situation for the Chiefs and their quarterback once he evaded the pressure in the pocket.
That accounts for the vast majority of positive splash plays for Mahomes and really for the whole offense. Houston was able to apply a lot of pressure throughout the game and forced quick throws, so we didn't get many deep balls, there wasn't much moving the pocket, etc. A couple throws did stand out though, including this fading touch pass to Travis Kelce.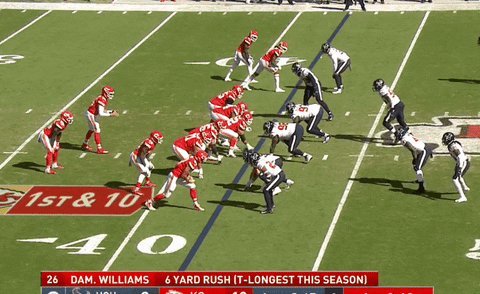 This throw is your humble author's favorite from the weekend. Linebacker Benardrick McKinney is up in Mahomes' face while the quarterback is already quickly retreating in the pocket. Despite the pressure and backward momentum Mahomes is able to make an accurate throw to Kelce, who has minimal separation after a mesh route concept in tandem with Demarcus Robinson. Mahomes has to loft this pass, but does so with perfect accuracy so only Kelce can make a play on it in the air. This was arguably the toughest throw he made all game.
While his mobility was limited, one example did stand out for Mahomes in terms of movement within the pocket and making a play while shifting around.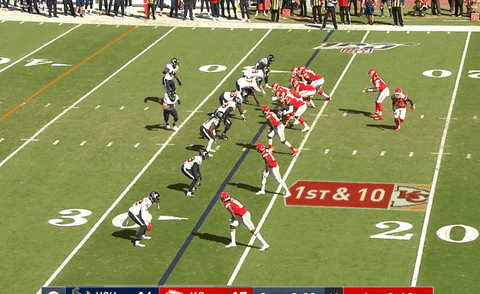 There's even some pump-fake action involved here. Whitney Mercilus (59) is caving the pocket in from the left, so Mahomes has to slide right ever so slightly. The pump fake buys more space over the middle, and from there he's able to fire a quick dart to Byron Pringle, who makes some nice moves for a first down. Watch his head on the throw, too; is that an attempt at a no-look pass?
When the Chiefs looked like they would cruise in their Week 6 game early on, the following play was the early explosion that got Chiefs Twitter, and the Kingdom in general, all kinds of fired up.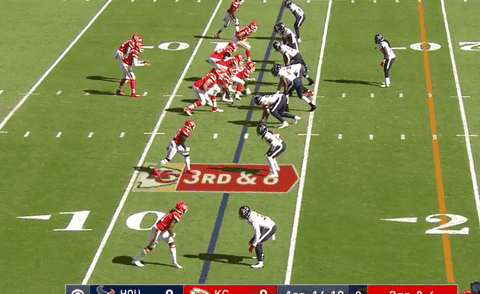 Pop quiz: Is the wheel route always open?
Answer: Yes. For Kansas City this is essentially the Darrell Williams play, as it's almost always him who ends up taking off from the backfield on the wheel and it works every time. There's minimal depth on this target and it's not a particularly complicated toss, but he did what he needs to do and it led to a 52-yard gain.
That covers it. Normally, there are twice as many clips of electrifying throws in any given game, but there simply weren't any of those plays this week. It's readily apparent that Mahomes' ankle is affecting what this team can do, although it's far from the only factor. It's not like he had a terrible game filled with disastrous decisions and poor throws, rather there just wasn't anything particularly exciting. An injured and obviously painful ankle is the only way to slow down Mahomes that we've seen so far.
Mahomes Bad
We're going to look at the interception Mahomes threw on Sunday, even though it only stood because of a ludicrous, nonsensical ruling by the officiating crew.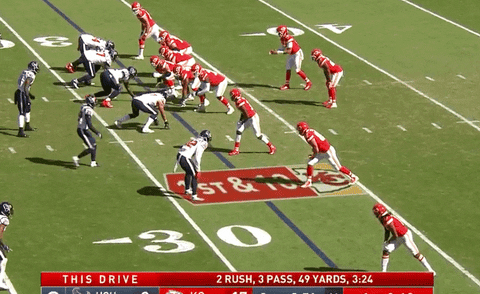 There's no point in trying to make sense of the decision that a pass interference flag would be picked up because Kelce wasn't the intended target, because he was actually the target and wasn't anywhere close to the ball because he was held. It was an embarrassingly awful call and this play should have been waved off.
However, Mahomes did throw a couple of risky passes that nearly gave possession away again, with the two most obvious examples both coming late in the second quarter.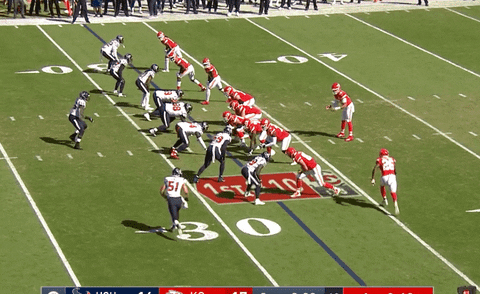 We've seen Mahomes thread the needle between two defenders plenty of times, so the fact that he'd try it again on Sunday isn't shocking. This is a bad throw, though, without enough velocity on it and into too tight of a window. Thankfully it was tight enough on the sideline that there was little chance for safety Justin Reid (20) to land in bounds.
Later on the same possession Mahomes missed his man short and gave a Houston defensive back a shot at the ball again.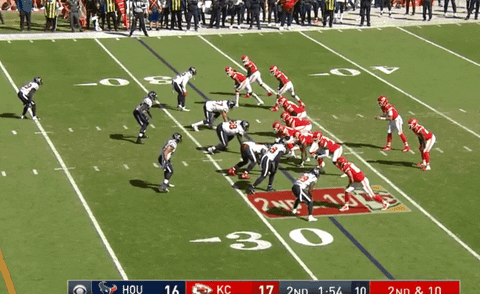 Mahomes has time, sees who he wants and once again just misses. This is another one of those plays that illustrates how high his bar is, because every quarterback makes a pass like this at some point, but we almost never see it from Mahomes, especially two risky throws on the same drive. The first throw here could be an example of trying to do too much when the offense is fizzling. The second one, though, is just a mistake.
Non-Mahomes Good
The Chiefs did force three turnovers in the losing effort, and it was Frank Clark of all people who got things off to a great start for the defense early in the game.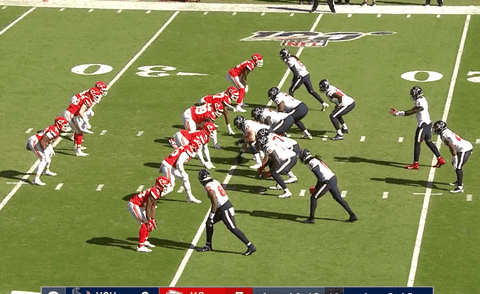 It's this kind of play that reminds you why Kansas City wanted to get Clark. He finds through the muck and attacks the ball, knocking it away from Carlos Hyde and is able to recover the fumble. This occurred on the Texans' first offensive snap, and it made you think this would be a much better game for the defense than it actually was. It also felt like it could be a breakout game for Clark.
Right before halftime, Juan Thornhill picked of Deshaun Watson for his first career interception.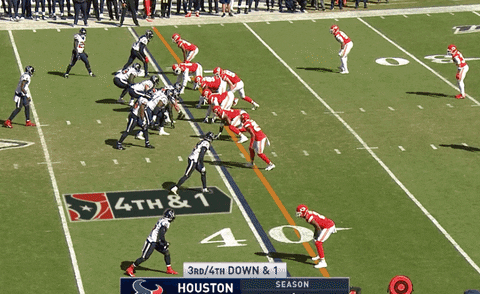 This play is a double-edged sword for our purposes. On one hand, it's the first interception for a promising rookie and that's worth recognizing. On the other hand, this play happened on fourth down, so the smart play would have actually been to just let the ball fall incomplete to save field position. That's especially relevant given a play we'll see later. Still, it was an exciting moment for the Virginia product.
The most impressive takeaway of the game was created by none other than Charvarius Ward.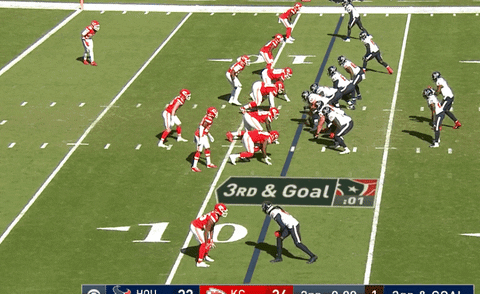 Ward is covering Deandre Hopkins, one of the best receivers in the game, who isn't even able to make a play on the ball as Ward reaches up, pulls in a less-than-spectacular Watson throw with one hand and corrals it for the pick. This seemed like another potential momentum-shifting moment. It wasn't, but it an impressive interception regardless.
Non-Mahomes Bad
Where do you start with this game?
Our purpose is to mostly cover the best and worst plays from Patrick Mahomes week to week, but you can't tell the story of his week without exploring the other issues currently plaguing the whole team. He was not great, in fact he was downright boring by his standards, but he was hardly the reason the Chiefs lost. There were offensive issues, though, ranging from the inability to control the ball and clock (Kansas City barely had half the time of possession that Houston had) to a refusal to run it (those are connected). Passing far more often than running isn't often a bad thing, but 11 rushing attempts for the game when your offense is struggling is a curious decision, especially since it was a close game.
When Andy Reid did dial up a run late in the game, though, it was the worst possible call.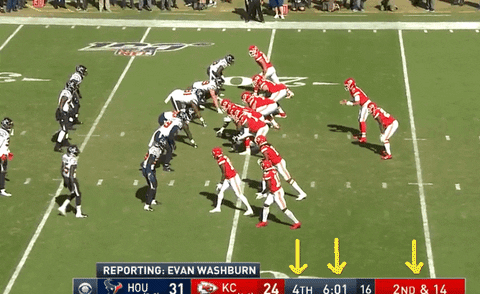 Check out the down, distance, situation and field position. Late in the game, behind schedule and deep in your own end of the field. Naturally, the call is an outside handoff. There's something to be said for trying to get the defense off balance, but this is two weeks in a row Reid has called a run at a terrible time late in the fourth quarter.
Then there's the dreadful offensive line play, which was on display once again.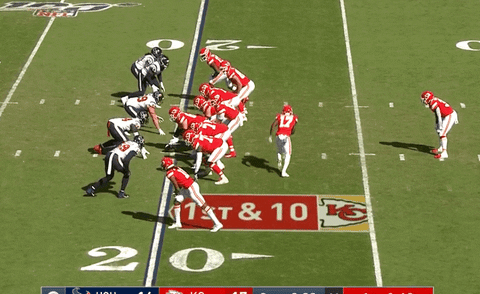 Rookie defensive lineman Charles Omenihu (94) destroys Austin Reiter with an interior rush here, but if he didn't crush Mahomes there were two other Texans who would have. An already dinged-up Mahomes takes another shot, loses the ball deep in Chiefs territory (this was right after the Thornhill interception) and the Texans cashed in. Yes, there are injuries and that's a major problem that you can only control so much. But this line is going to get the franchise killed.
Deshaun Watson had been sacked 18 times this season entering Sunday. In the first 27 starts of his career he had been sacked 99 times, or 3.67 sacks per game. The Chiefs didn't get home once. You can affect a quarterback with the pass rush in more ways than just recording sacks, but the Chiefs didn't do nearly enough in Week 6.
And, of course, the penalties. For the second week in a row, the Chiefs committed 11 of them. Plus, several others were declined. You can overcome turnovers, which Kansas City showed last year when it was the top seed in the AFC despite leading the NFL in penalties committed. But the undisciplined play the Chiefs have exhibited in the last several weeks needs to be fixed immediately. When you have numerous injuries and can't run the game plan you'd like to run, your margin for error is way smaller and you can't afford to make mistakes like that.
The Chiefs are still the best team in the AFC West. They're still one of the best teams in the AFC overall. Once players like Eric Fisher and Chris Jones are back from injury this team will look better. However, if Mahomes can't operate at his normal other-worldly level, which he clearly couldn't this week, the rest of the team needs to play far better than what it showed against the Texans.
---