Mahomes Report: Week 7 vs. Denver
October 29, 2020 8:00AM CDT
Welcome to the Mahomes Report, a weekly breakdown from Brendan Dzwierzynski ol rig what Kansas City Chiefs quarterback Patrick Mahomes did, either good or bad, during the most recent Chiefs game. For past editions, click here.
All right, Chiefs, we need to have a talk.
You continue to take care of business, and that's great. Outside of a slip-up against the Raiders, over the past couple of weeks you kept the Bills at bay and embarrassed the Broncos yet again. Those are all good things.
Here's where the issue comes up, though: You haven't need to be spectacular to do it. The play is good all over the field, with a forceful defensive presence showing up weekly and an offense that methodically picks apart opponents. That latter part is an issue, though.
We do this every week to see Patrick Mahomes play out of his mind. Throwing passes 50 yards down the field with precision and touch, rolling left and throwing back right with a perfect spiral at 90 miles an hour to hit a target in stride, etc. We haven't seen much of that lately.
Sure, that's probably a preferably way to win as opposed to need the former MVP to pull off insane and magical plays on every down. Consider the Mahomes Report, though, and how badly we crave insane scoring plays and flashy highlights.
At least we got a few of those from QB1 in the demolition of Denver in Week 7.
| | | | | |
| --- | --- | --- | --- | --- |
| Comp.% | Yards | TD | INT | Rate |
| 65.2 | 200 | 1 | 0 | 107.2 |
Mahomes Good
First up for today's Report is a deep ball to the Chiefs leading receiver in Week 7 … Mecole Hardman?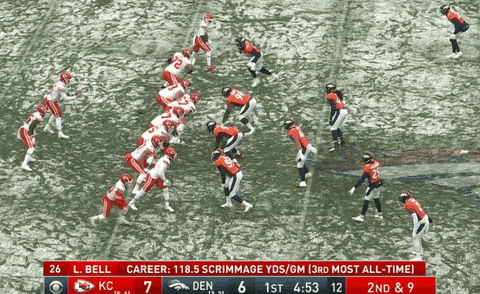 Hardman only caught two passes for 57 yards, but that was enough to lead Kansas City's receivers in yardage in the win over Denver. This throw from Mahomes is a gem. He rolls out to his right on the RPO read and has plenty of time to throw with no Broncos in front of him. Hardman is crossing the field after starting tight on the left side of the formation, and Mahomes throws a perfect ball to hit No. 17 in stride. He's looking for the big play all the way, and with Hardman beating rookie cornerback Michael Ojemudia (23) it's an excellent opportunity to gain a big chunk of yardage. This is beautiful.
We may as well take a look at Hardman's other catch from Sunday, too.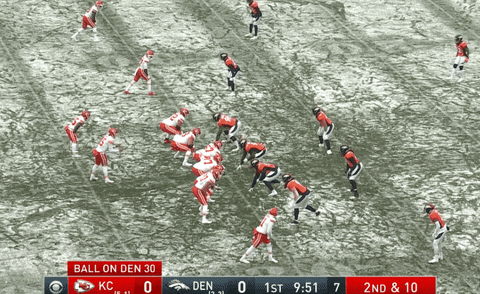 This pass had the most sauce of any from Mahomes in Week 7. This time around it's a designed boot to the left to move the pocket and create time to throw. The left-side receivers are running the Smash route concept, with Hardman running the corner route over Byron Pringle's hitch. That effectively takes the defensive back in front of Hardman out of the play, and with cornerback Bryce Callahan (29) beat on the deep route Mahomes can pick up another big gain. The delivery from QB1 is special, too, with the perfect precision despite throwing to his non-dominant side while rolling out. Hardman makes a nice catch with one hand, but Mahomes put the ball where only his target could grab it.
Let's move on to a redemption story for second-string tight end Nick Keizer.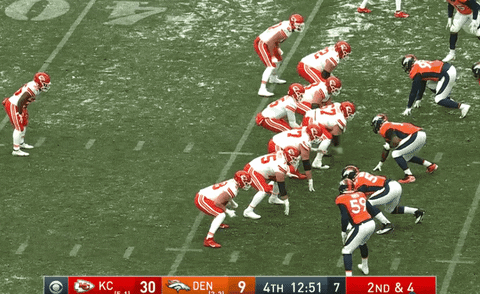 It was just two games ago when Keizer dropped a ball on a similar throw, coming back across the middle to try to save a play. This time, finally, he comes through. Mahomes does a tremendous job of keeping his eyes down the field and seeing the whole play, allowing him to catch Keizer sitting down in space. He has just enough time and space away from rushing linebacker Alexander Johnson (45) to keep the play alive. From there, it's just Mahomes being Mahomes, throwing back across the field and right on target to the tight end. Keizer's playing time is in danger given his regular struggles this year, but this play doesn't hurt.
On to our featured play from the screen game this week. It's a prime example of Mahomes using multiple aspects of his physical savvy to manipulate the defense.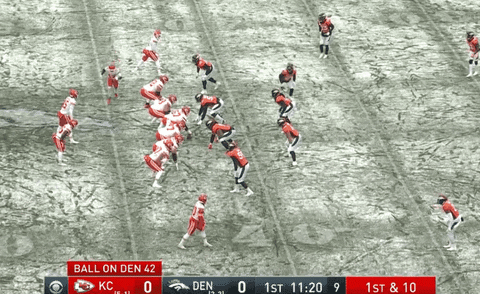 The down begins with jet motion from Hardman and play action to Clyde Edwards-Helaire in opposite directions, creating space and taking defenders out of the play from the jump (watch one defensive back trail Hardman across the formation while a linebacker has to commit to CEH on the other side of the field). Travis Kelce starts the play blocking before peeling back to the inside as the screen target. Mahomes is looking right the entire way, shifting slightly that way and faking to that side of the field. That puts linebacker Josey Jewell (47) in conflict because he's floated too far right, so he can't get back to the middle of the field before Mike Remmers takes him out of the play. Great design all around, per usual, and good execution by Mahomes and company.
Finally, Mahomes did extend his streak of games with a touchdown pass against the Broncos as well.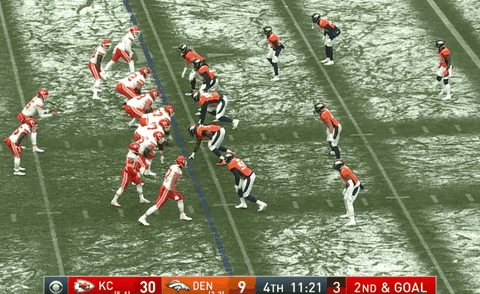 More simple RPO action is on display here. Tyreek Hill runs the arrow right to the flat while Edwards-Helaire is running right for the run option. Mahomes sees Malik Reed (59) crash, which means Hill is all alone on the outside. The speedster does the rest, catching the defensive back flat footed and slipping into the end zone. The Broncos were simply outmatched.
Five plays is an admittedly minuscule number for this section of the Report. That's not to say Mahomes played poorly the rest of the game, far from it. But it does indicate that the Chiefs didn't need his spectacular arsenal to beat the Broncos. He was able to make simple, easy throws for most of the game and it was more than enough. We would like to see more physically confounding plays out of Mahomes, but Kansas City must be thrilled to not need many of those plays to win by 27 points.
Mahomes Bad
Once again, as is becoming commonplace, there's nothing to see in this section. And to reiterate from past week's when this has been the case, this doesn't necessarily mean Mahomes played a perfect game. When you don't make any major mistakes and didn't put your team in harm's way then you probably won't have too many lowlights for the week.
Non-Mahomes Good
There was a massive amount of good things that the Chiefs did in the Week 7 victory. First, though, we need to start with the funniest play of the week, maybe of the year so far, that resulted in a turnover despite the Kansas City defense not doing much at all to force it.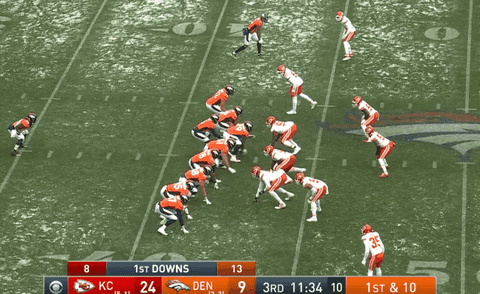 This sums up the current state of the Denver Broncos. They continue to get demolished by their divisional rival, their hopeful quarterback of the future has been far below impressive in eight of his nine career starts and their offense is still in shambles more often than not. This play is too funny, and Frank Clark gets to benefit from the ineptitude.
On to good plays the Chiefs actually made and sticking with the defense, we need to show some love to Tershawn Wharton.
The undrafted defensive lineman from Missouri S&T has looked impressive week after week, and making a hustle play like this is going to earn him even more playing time. The 6-foot-4, 255-pound rookie showed great pursuit to cause the fumble here. Never giving up on a play like this is a great way to endear yourself to a coaching staff.
Speaking of (former) undrafted rookies, Byron Pringle is becoming a legitimate threat for Kansas City.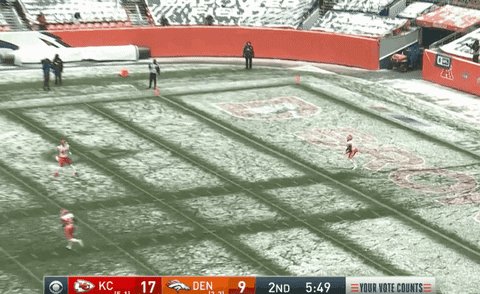 The Chiefs don't always need Hill or Hardman to make a big splash on special teams. On just the third kick return of his career, Pringle was able to house one from 102 yards out. What might be the most exciting part of this return is the way he commits to carrying the ball upfield. There's no extra dancing around or running sideline to sideline. Instead, he heds upfield right away, makes one cut in traffic and is gone from there. The more he plays on both offense and special teams, the more it feels like the Chiefs can utilize him as a weapon.
Finally, let's go back to the defense and give some love to Dan Sorensen.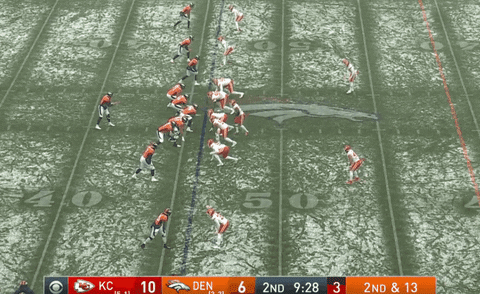 Dirty Dan played arguably the best game of his career on Sunday, and on this pick-six he takes advantage of an inexperience quarterback who doesn't read the field well. Sorensen is prowling in the secondary, baiting Drew Lock to throw underneath to Noah Fant. It's a long throw, so Sorensen has time to break on the ball with plenty of time to jump the route and run to daylight on the return. This is a gret play by the veteran safety.
Non-Mahomes Bad
The love affair with the new-look Chiefs offensive line took a sizable hit in Week 7.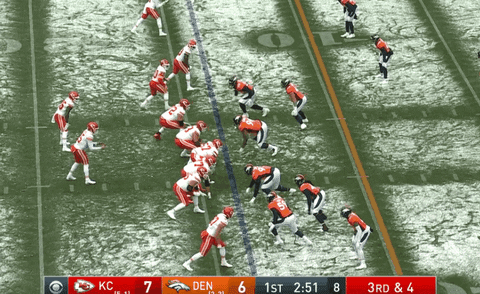 The Mitchell Schwartz-less offensive line played admirably against Buffalo in Week 6, but against Denver there were some major lapses. The Broncos have a good defense (it was ranked sixth in the NFL by DVOA entering the week), but there's no excuse to let the opponent's best pass rusher get a free run at your quarterback like Bradley Chubb (55) had here, let alone to allow it to happen multiple times. But that's what the Chiefs did on Sunday, and that can't happen again going forward. Don't let Mahomes take a shot like this.
Earlier, we mentioned the redemption story for Nick Keizer on a big pass play. Well, to be redeemed there needs to have been a negative outcome in the first place. Case in point: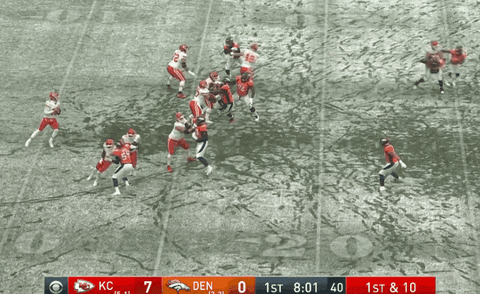 Keizer has dealt with a multitude of problems this season, from bad hands to blocking failures to pretty much everything else in between. He's obviously got the trust of the coaching staff, considering he's made numerous mistakes and remains active, while Ricky Seals-Jones dropped one pass and was instantly banished back to inactivity. But if he wants to keep his playing time (and maybe his job entirely), Keizer absolutely must work these kinks out before they lead to a real disaster for the Chiefs.
And finally, Harrison Butker, stop messing around on extra points. Five misses in seven games isn't bad, it's horrible. Like Keizer's issues, the misses haven't led to a cataclysmic event yet, but don't let them get to a point where they do.
---